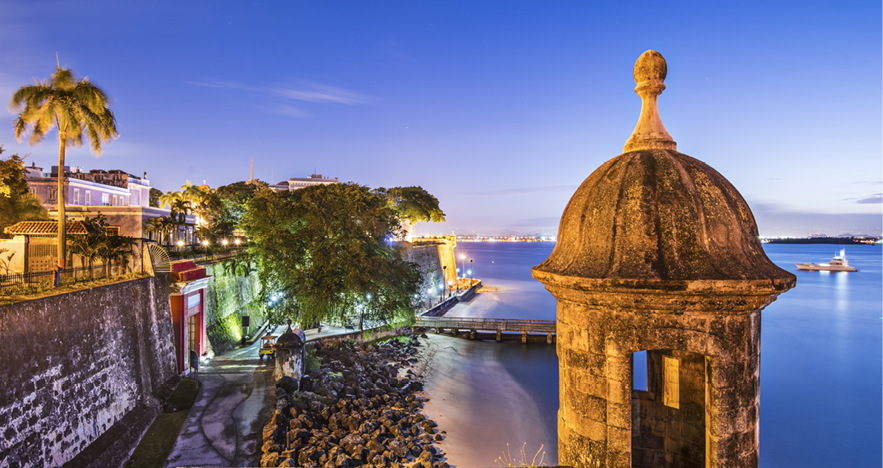 When winter sets in, travelers flock to the Caribbean to flee the frosty temperatures. If you find yourself cruising the Caribbean to San Juan for warmer weather, add a few days to explore the island to see all that Puerto Rico offers!
Tour Casa Bacardí
This interesting tour of the largest rum distillery in the world takes you through the cellars to show you how Bacardí ages its rum. Along the way, you'll delight in the entertaining stories and learn fun trivia like the fact that Bacardí's senior master blender personally taste-tests every bottle of rum produced in the distillery. Yep, every single one.
Find the Glow
Only a handful of bioluminescent bays exist in the world, yet Puerto Rico is home to three of them. With a few splashes, the bioluminescent organisms activate and start to glimmer. Watch the water shimmer and illuminate all around you as you experience this natural phenomenon. These single-cell creatures show tremendous resilience. Even after Hurricane Maria wreaked havoc on the island, the water in the bio bays is recovering and shining bright.
Find Adventure
You can enjoy fun-filled activities on both land and sea. Kayak the crystal-clear waters, join the party in waist-deep sand bars or relax on a catamaran sail. On land, horseback ride, zipline or hike through the rainforest. Puerto Rico will keep you busy all day and all night.
Meet the People
Puerto Ricans welcome visitors with open arms, showing travelers genuine hospitality. Work with your FROSCH Travel Advisor to arrange a private guided tour of the island. Enjoy the sites of the island, learn the local culture, and contribute to the recovery of the island post-Hurricane Maria. What could be better?
When your next Caribbean adventure begins or ends in San Juan, add a few days to your trip to explore all that Puerto Rico has to offer. You'll be glad you did.
Image Licensing: Shutterstock