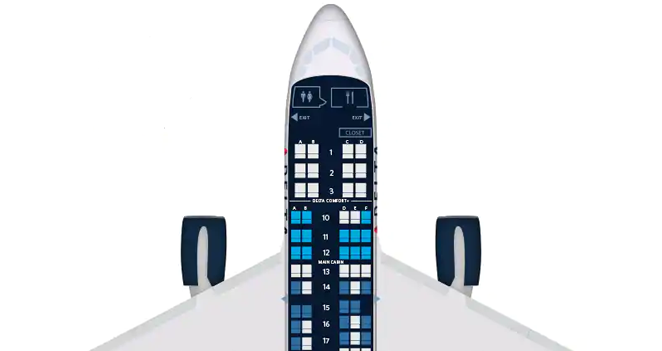 Beginning this month, travelers in the U.S. will have the opportunity to fly on the first newly-constructed, large single-aisle aircraft in almost 30 years. Delta unveiled its new Airbus A220-100 in October, becoming the first US airline to bring the craft into its fleet; airBaltic, Korean Air, and SWISS already fly the A220-100s.
The new planes will replace and modernize Delta's fleet; welcome news for travelers, as some planes operating on Delta's domestic routes are over 30 years old. Canada-based Bombardier will build each new A220-100 to a tune of about $81 million.
The jets will feature new technological developments including durable, lightweight, non-metal wings constructed using a resin transfer injection technique. The wings allow the aircraft to move through the air more smoothly and require less maintenance. The jets are also the first single-aisle craft to feature electrical brakes instead of hydraulic brakes, also requiring less maintenance.
Image Courtesy of Delta Air Lines