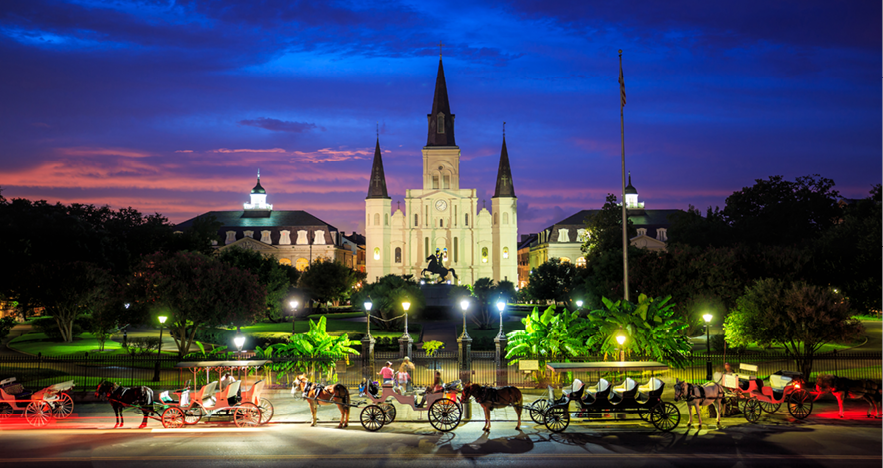 Is a cruise from New Orleans on your radar? Don't make the mistake of hopping on the ship without adding a few days of fun in this port. You'll be missing out! Check out a few things we've rounded up for you to explore to experience all this vibrant city has to offer.
Delight Your Taste Buds
N'awlins Cajun food won't disappoint, and its spiciness will have you grabbing for your beer. From crawfish to oysters to gumbo, you'll indulge in plenty of tasty seafood.
But go beyond the seafood, too. Add Po' boys, jambalaya, and muffuletta sandwiches to your list. For sweet treats, you can't go wrong with Beignets and pralines, or "praw-leens" if you're a local.
If you're trip brings you to the Crescent City during Carnival season, pick up a King Cake from a local bakery. Maybe you'll be the lucky one with the "baby" in your slice and be crowned King for the day!
Have a Hurricane on Bourbon Street
Hit Bourbon Street to have a noisy, raucous time. At Pat O'Brien's, taste a Hurricane (or two). This rum and fruit juice concoction has been served at this bar since the 40s. If you like the late night neon lights and party scene, stay put.
Revel in the Music and Festivals
From Mardi Gras to Jazz Fest, there is no shortage of events in New Orleans. Pick almost any weekend and you're sure to find a celebration or an event to attend. Jazz music is this city's heart and soul, so it'd be a shame not to at least pop into a local club for one set. Preservation Hall is a good choice for some live, local Jazz.
Tour Swamps and Cemeteries
For something a bit different than back home, take a swamp tour through the Louisiana bayous. Keep your eyes open for alligators swimming by.
Within the city limits, the above ground tombs will amaze and haunt. Take a guided tour of a cemetary or explore one on your own!
Saving the Best for Last
An unexpected treasure of New Orleans is the National WWII Museum, which rivals any museum in the country. History buff or not, this should not be missed. After a visit, you will see why USA Today ranks this museum as the #1 Best Place to Learn about US Military History.
So, go ahead, add a few extra days to your trip and see for yourself all that New Orleans has to offer.
Image Licensing: Shutterstock