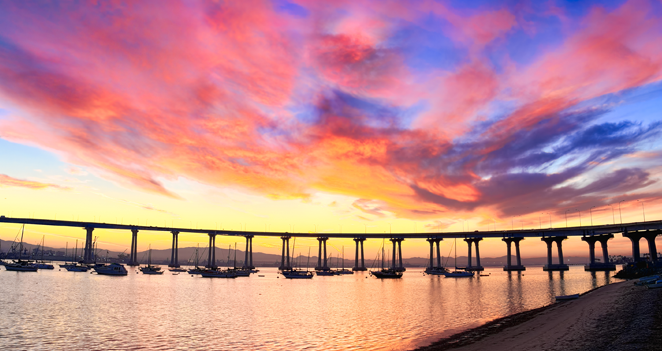 FROSCH GC&E is very lucky to be able to call California home, especially since our office is only about 15 minutes away from the ocean! The spectacular Highway 1 stretches over 650 miles north to south, providing some of the most amazing scenery in the United States. From San Francisco to San Diego the uniqueness and beauty of each stop is simply breathtaking. This coastal journey should be on everyone's bucket list!
With over 1,000 miles of beach and over 100 enchanting coastal towns along the California coast, the possibilities for building a one-of-a-kind program experience are endless. We have chosen 5 amazing beach spots for both business and pleasure:
Best for Business: Coronado Beach, San Diego
Located on Coronado Island, just over the bridge from San Diego, is the fun and family-friendly Coronado Beach. Coronado Island also houses the iconic and beautiful red-roofed Hotel del Coronado. The quick drive back to San Diego offers a great convention center, a variety of hotels and restaurants, sporting events, Balboa Park, and other leisure options, including the world-famous San Diego Zoo.
Best Scenery: Carmel Beach, Carmel-by-the-Sea
This secret seaside village boasts one of the best beaches in California. This crescent-shaped stretch of beach is known for its soft, white sand and unparalleled view of the infamous Pebble Beach golf course. This coastal oasis welcomes dogs, and beach volleyball is a daily occurrence. Wood-burning firepits add to the welcoming ambiance. Monterey Bay is just a short 4-mile drive, and offers great hotel and meeting space options, including the stunning Monterey Bay Aquarium and lively Cannery Row.
Best Big City: Baker Beach, San Francisco
Baker Beach has some unbelievable views of San Francisco's Golden Gate Bridge if "Karl" the fog decides to stay away. While swimming isn't recommended here, this mile-long stretch is ideal for a stroll and some special photo opps. On a racy note, remember the beach's northern end is clothing-optional. Located within the city limits, any type of San Francisco program can be developed, customized and produced, based on our client's needs and objectives.
Most Unique: Glass Beach, Fort Bragg
This beach isn't named because the water that looks like glass. It is quite the opposite. This unique site is a former dumping site and due to the tide patterns, the beach is now entirely covered in tumbled, softened, and polished sea glass. While the site is protected, and you may not remove any glass from the beach, it is still an awesome experience. Located in charming Mendocino County, this area is known for its beautiful landscape, the unusual Bowling Ball Beach, great hiking trails, world class wineries, and the famous Skunk Train.
Best by Boat: Avalon Beach, Catalina Island
This picturesque beach takes you off of Highway 1 and onto a ferry. The scenic boat trip of just 22 miles leads to a very special spot in the southern part of the state. This casual and friendly area provides great shopping, restaurants, art galleries, golf, biking, and a variety of water activities off of Avalon Beach. And, with new "glamping" camp sites, this island might be too good to be true.
Whether you are looking to plan an incentive trip, a business meeting or an employee retreat, California certainly has something for everyone, and the coast is a great option for all types of experiential programs. Call FROSCH Global Conferences & Events today, so we can show you the best of the Golden State and our amazing coastline!
Image Licensing: Shutterstock