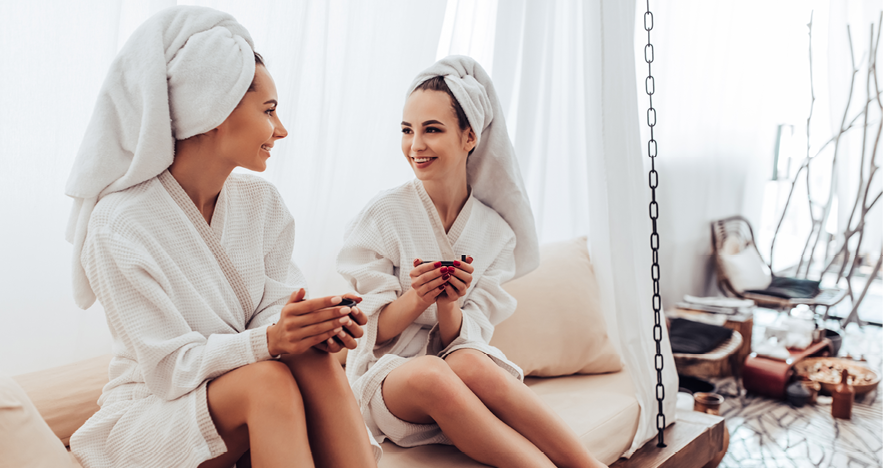 Some say that the word spa is an acronym of the Latin phrase "salus per aquam," meaning "health from water." Others believe it derives from the Belgian village called Spa, where hot mineral springs were used by Roman soldiers to treat their battle wounds and soothe aching muscles. Either way, most people recognize spas as an indulgent, healing space for self-care.
At FROSCH Global Conferences & Events, we specialize in creating remarkable experiences for our clients, attendees, and their guests. A visit to the spa is a must for many of the important programs that we produce. We have found that some people are experienced, big fans of spas while others are less experienced and potentially unsure. Still others have never been to a spa at all.
Spa days are important for so many reasons. You get quality time dedicated to your own well-being. Studies have shown there are a variety of health benefits to visiting a spa and enjoying the many treatments, products, and amenities that are available. Most importantly, the feelings of relaxation, rejuvenation, and reflection as well as the overall benefits for your mind, body, and spirit are priceless.
Here are some of our favorite spa treatments to indulge attendees with.
Massage
Massage treatments can assist with circulation, your lymphatic system, and delivering oxygen and important minerals and nutrients to your body's cells. It has been proven that massage releases a hormone called Serotonin that enhances the body and mind's "feel good" state.
Facials, Masks & Peels
Facial massage and exfoliating treatments stimulate facial tissue and can be customized for all skin types. Masks can also be great for skin types ranging from dry to sensitive, as they help to restore, hydrate, and diminish aging. Aroma, chemical, and laser peels are popular revitalizing facial treatments for those who want to go beyond a standard facial.  They are designed to remove layers of dead skin cells and target the skin's appearance at a deeper level, revealing a brighter and more youthful complexion.
Sauna & Steam
The heat of a sauna or steam room can help your body to purify and wash away all the toxins that find their way into our complex systems. Heat treatments are offered in many forms, all of which help circulation, in addition to the purification process.
Water & Cold
In contrast to warm heat treatments, cold water or ice therapy experiences stimulate the circulatory, lymphatic, and immune systems. Rain rooms are another soothing option, while custom aromatic baths can assist your body in finding your true center, as the water naturally provides equilibrium.
Scrubs, Wraps & Mud
Body scrubs gently exfoliate your skin, promote cell renovation, refine pores, and provide overall relief for your skin. Scrubs also purify and protect skin against environmental irritants. Body wraps are exceptionally beneficial as they replenish nutrients that are lost daily and help moisturize your skin. A therapeutic mud experience takes place in a rasul or mud chamber; it helps to exfoliate dead skin cells, eliminate toxins, and increase circulation.
Various other spa services and treatments can help with anti-aging, promote sleep, relieve stress, and even support weight loss. In fact, spa services are continuing to expand, offering the services of nutritionists, Reiki therapists, and other health professionals who can advise, suggest tools, and assist in developing a plan that works for each individual and his/her lifestyle.
Since the spa industry is always evolving, we have done some research on upcoming trends, so we can enter the new year with spa clarity! The top 10 most unique and indulgent spa choices for the new decade include:
Gold, Diamond or Pearl Facials
Salt Beds
Cryotherapy
Eight Handed Massage
Sound Therapy
CBD Treatments
Forest Bathing
Chakra Massage
Nature Immersion
Virtual Reality Experiences
We continue to pride ourselves on delivering the unexpected to our clients in the strategic planning and flawless execution of all types of programs. FROSCH GC&E would be thrilled to help you plan your next meeting, special event or incentive trip. Please contact us today to help infuse some rest, relaxation, and rejuvenation into your next program. We would love to make that long overdue spa appointment for you!