Is NOW a Good Time to Visit Africa?
In short, yes!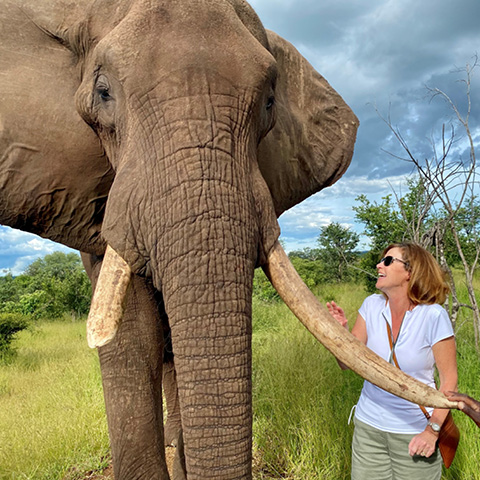 One of the most popular reservations travelers have about experiencing Africa is the long flights and often lengthy delays inherent in getting there. But the payoff, especially now when travelers can experience Africa without the usual busloads of tourists, is immense.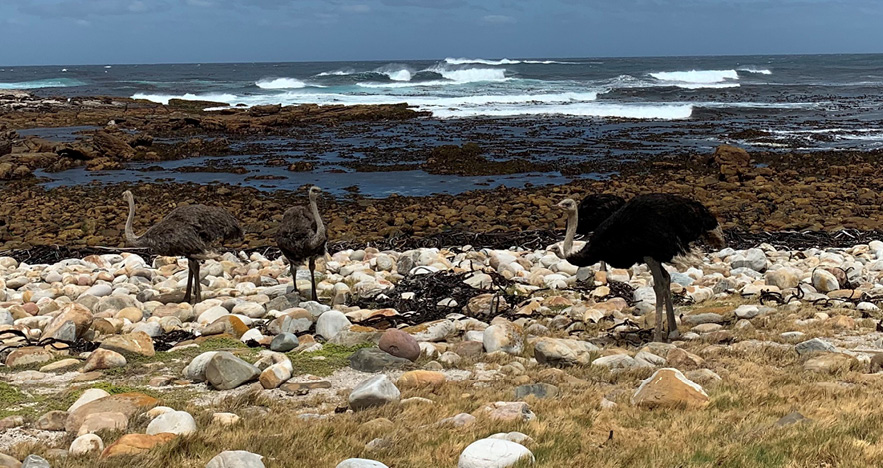 Imagine arriving at Cape Point and being greeted by ostriches on the beach!  Picture yourself walking down the pathway to the penguins at Boulders Beach with nothing but a sprinkling of other tourists and seeing an empty parking lot.
The cable car to the top of Table Mountain, which usually has a wait time of 90 minutes, has no line stopping you from enjoying the unlimited view of the whole Cape.  Cape Town is beautiful anytime, but it's especially rewarding when you essentially have it to yourself.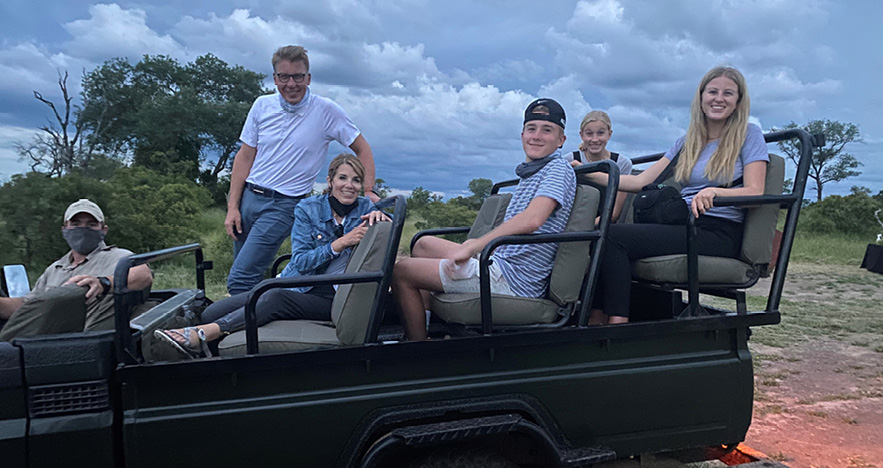 My group visited Krueger National Park and we had the pleasure of staying at the Sabi Sabi Bush Lodge. This is where safari dreams come true.  As you enter, you cannot help but say "wow" as you are greeted by the incredibly friendly staff.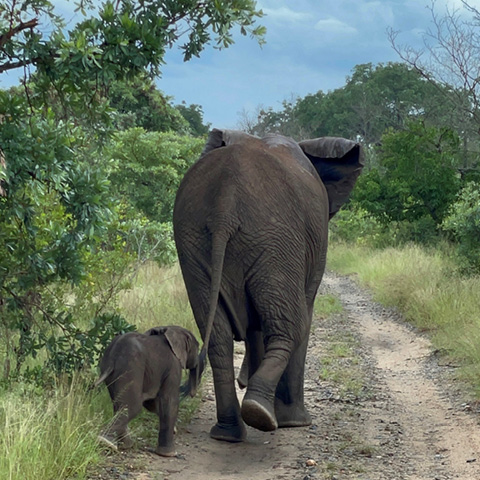 Photo Credit: Paul Johnson
Directly in front of you is a herd of elephants grazing on the savannah.  What was staying at Sabi Sabi Bush Lodge like during COVID?  Their protocols are second to none.
Each employee (including spa staff) must isolate on property for five days before beginning their work term (which usually lasts 6+ weeks).
This reduces the potential staff-to-guest COVID contagion to almost non-existent levels.
The only unfortunate thing was we couldn't see the staff's smiling faces behind their masks. But their warmth and hospitality was felt wherever we went.
Sabi Sabi's suites, food, Bush, Boma and Garden dinners, and sundowners (where they mowed the lawn especially for us!) made the experience all the more magical and memorable.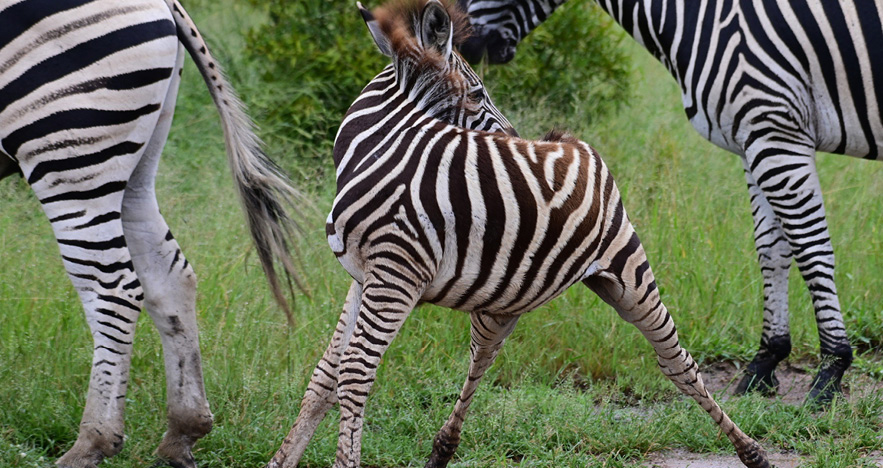 Photo Credit: Paul Johnson
The lodge is known for its abundance of game viewing; however, the Sabi Sands area also has the most "roads" when compared to other reserves, which gives you better access to the wildlife.
And the wildlife did not disappoint!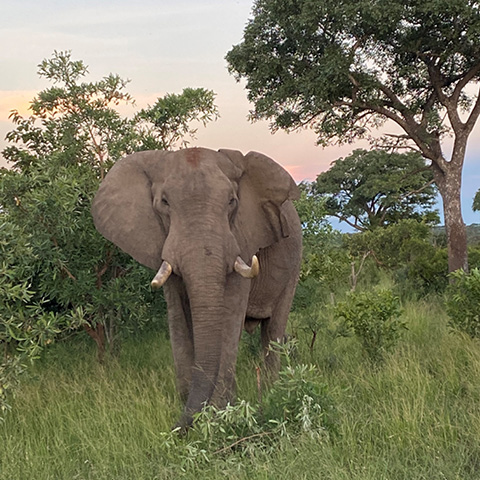 Elephants trudged just feet away, flapping their magnificent ears and trumpeting their greeting (or could it have been a warning?)!  We had a little tracking game going between the guests, and everyone saw no less than 40 species of animals and birds.  The guides and trackers worked together to give us optimum viewing and many surprises along the way.
There are Four Sabi Sabi Lodges, with the Bush Lodge being the largest and most family friendly.  Little Bush sits on a river but has only six suites.
Sellati is like stepping back in time and you'll instantly feel like you're reliving the iconic film "Out of Africa."
Even the rooms are themed. With seven suites and a beautiful savannah, it is a perfect choice for couples who might enjoy the themed experience.
Earth Lodge simply blows you away. While there is no savannah view, a nearby watering hole nearby keeps the hippos (and as a result, the guests) happy.
Victoria Falls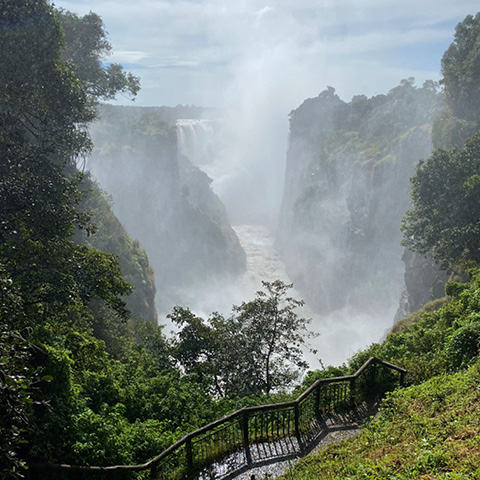 From Sabi Sabi we next traveled to Victoria Falls. We had originally chartered direct flights but current protocols require travelers to transit back to Johannesburg and overnight there before proceeding to Victoria Falls Airport the following day.
We stayed at the Victoria Falls Hotel, which was under some much-needed restoration of its rooms. Not that we were unhappy with the current décor, but some of the soft goods and amenities definitely had a time stamp on the era they represent.
What has remained unchanged throughout the years is the exquisite views of the mist and the bridge from the great lawn that leads out from the hotel's terrace restaurant.
We started our stay at Victoria Falls in style with a sunset boat ride on the Zambezi River, accompanied by hippos bubbling in the water on our first night. Quite a magical experience!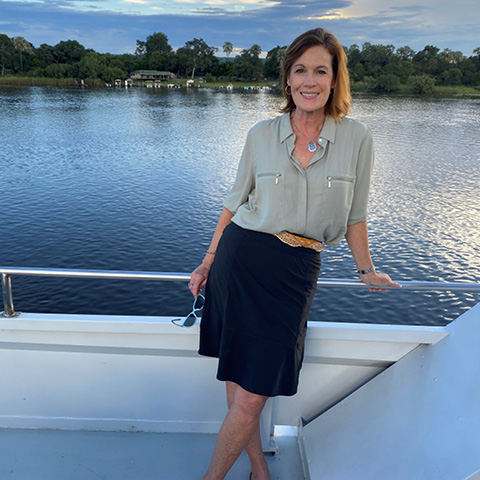 The Falls did have other tourists of course, but the path leading to the falls was another example of why traveling to Africa now has its benefits!
There were less than 30 people on the day we visited. For some perspective, a normal day pre-pandemic would see approximately 2,000 visitors.  It was a glorious sensory experience to witness the thunderous roll of the Zambezi as it tumbled over the falls.  It was one of the most amazing sights I have ever seen.
We also decided to spend some time at the Wild Horizons Elephant Sanctuary.  This was a surprisingly rewarding experience where we had the opportunity to pet, feed, and cuddle with these amazing animals.
We said farewell to Zimbabwe with a quick stop at the Women's Market. After our visit, I was given a copy of a text message sent to our on-the-ground escort thanking us profusely for shopping, as it was so meaningful to them.
Our purchases allowed the merchants to then go to the market for their own families.
We've all read about how the pandemic has devastated the world economy, but to see first-hand how a sudden lack of tourism has affected this and many other countries, was very eye-opening.
Truly a trip of a lifetime, and when you hear people say that Africa truly gets into your soul, it's not a sales pitch – it's the absolute truth!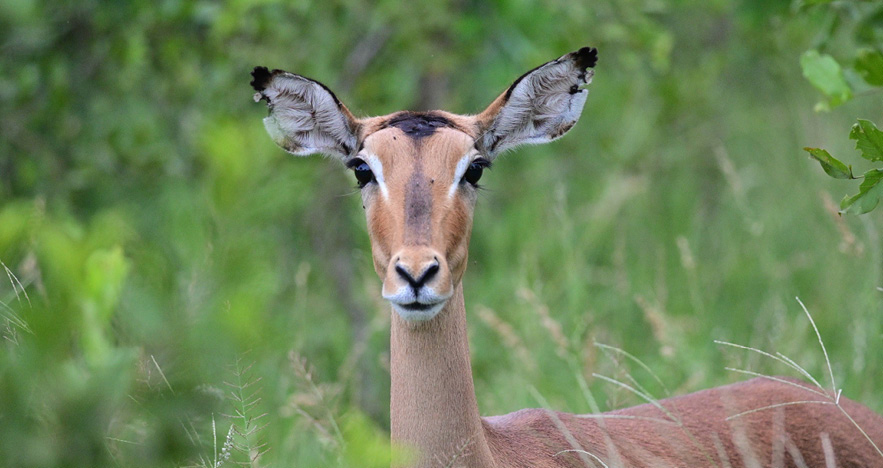 Photo Credit: Paul Johnson