Where to Go Right Now: A Santa Fe Getaway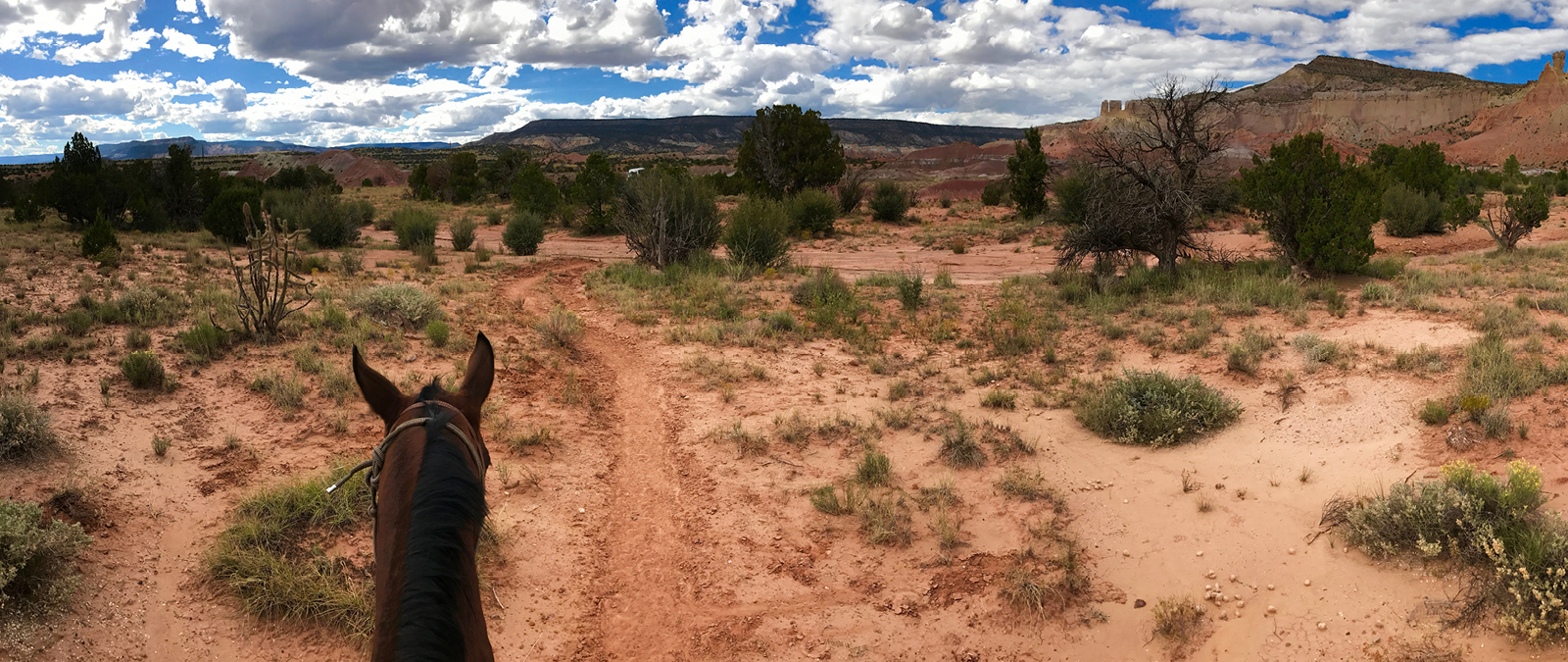 Need to get of town for a bit? Why not spend a few days (or more) in Santa Fe? With its vibrant art scene, unique pueblo architecture, and countless experiences, you won't run out of fun things to do in the town known as The City Different.

Stroll the Plaza and Canyon Road
If this is your first visit, start at the Santa Fe Plaza, a National Historic Landmark in the heart of the city. Pop into the Loretto Chapel to see the unusual spiral staircase that appears to be suspending in mid-air. Browse through the local galleries and grab a snack in one of the bustling cafés. Outside the New Mexico History Museum, you'll find talented Native American artisans selling their traditional jewelry, artwork, and pottery.
Continue to Canyon Road and meander the half-mile-long street filled with galleries and boutiques. You'll be bumping into major art collectors as you admire notable artwork from galleries known in art circles across the globe.

Ride Horses at Ghost Ranch
Imagine if you could go horseback riding through one of Georgia O'Keefe's dreamy desert landscapes. You can do this on a trail ride at Ghost Ranch, located about an hour's drive from Santa Fe. Once you arrive, you'll quickly see why the famous painter was drawn to this part of the country. You'll see it as she saw it, a sacred space with alluring beauty. You might find yourself wanting to come back again and again like so many other visitors to the ranch.

Hike at Tent Rocks
Outdoor enthusiasts will be pleased with the countless hiking trails near Santa Fe. But if you only have time for one hike, then make your way to Tent Rocks National Monument. Walking through the Seussical-like cone-shaped rock formations will be a highlight of your trip. Check updates on the park, as much needed upgrades could still be in progress.
Spark your Imagination at Meow Wolf
Mystery surrounds Meow Wolf, as it is difficult to describe this peculiar immersive art experience. Once you step inside, you'll be mesmerized as you explore the interactive rooms, secret passageways, and mind-blowing art. Try to solve the mystery of the art show or walk around in utter amazement. Either way, you will spend several memorable hours here.
Dine at Superb Restaurants
Whether you take a foodie tour, enroll in a cooking class, or indulge in every meal, you'll delight in New Mexican cuisine. Not to be confused with food from Old Mexico, you'll appreciate the distinct flavors from this region. Try stacked red chile enchiladas, blue corn tortillas, carne adovada, pinto beans, or green chile stew. You won't be disappointed. Popular places like The Shed require reservations, so plan accordingly.
And here's a tip: if your waiter asks, "Red, Green, or Christmas," he's asking do you want red chile, green chile, or a mix of sauces on your order!
If you tire of Southwestern fare, you can easily find other delicious options. You'll appreciate the focus on local, organic ingredients no matter where you decide to eat.
We've shared a small sampling of Santa Fe experiences, but this vibrant city has much more to offer even to the most discerning traveler. Reach out to your FROSCH Travel Advisor to arrange a custom-tailored trip for you.
Take Your Travel to the Next Level
Our travel advisors have 'been there, done that' in destinations across the globe. You'll appreciate our excellent service and honest, genuine advice when we suggest the perfect place to stay, the experiences to splurge on, the attractions to skip, and the travel restrictions you need to know. You'll be a VIP every time you travel with FROSCH.
Let's start planning your next adventure; we'll take care of all the details.