Patti Gallagher, an Independent Travel Consultant with Vista Travel, a FROSCH Company, in New Jersey, recently returned from a multi-stop visit through Florida. With COVID-19 protocols and restrictions in effect to varying degrees nationwide, we asked Patti to describe some of her experiences at Walt Disney World in Orlando, Clearwater Beach, and St. Augustine.  
Read on to hear more about Patti's trip!
Walt Disney World
We drove to Florida rather than flying.  After spending a week in Walt Disney World, we stayed two nights in Clearwater Beach, and two nights in St. Augustine.   
A trip to Walt Disney World is certainly a bit different now. We had a wonderful time but I would advise against a "first time visit" while COVID-19 protocols are still at their current level. Having been to the parks numerous times, we personally didn't mind that there were no shows, parades, fireworks, or character meet-and-greets.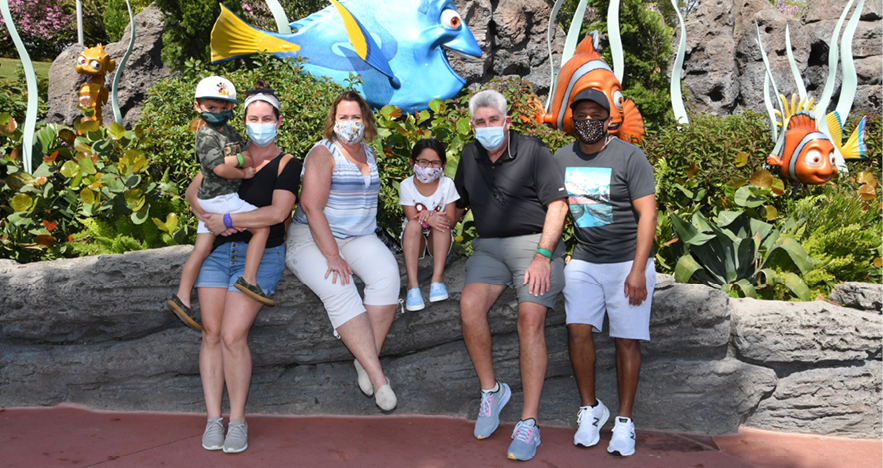 While park attendance continues to increase as we move further into 2021, we still saw a significantly smaller crowd. Speaking of continued growth, Disney has already reinstated a modified early opening. We were able to enter the park an hour early and attractions were open for resort guests 30 minutes prior to opening to the public. By taking advantage of the early opening, we were able to ride all of the rides in all 4 parks in one week! That is highly unusual for a Disney theme park vacation.
Unfortunately, there is no Fast Pass system at the moment, aside from ADA and "child swap" passes. Wait times for e-ticket rides were longer than we would have experienced with a Fast Pass, but the lines moved quickly. We didn't wait longer than 35-40 minutes for any ride and the longer wait times were during peak hours, usually after 12:00 PM. By utilizing the theory of going to the park early and leaving around 1:00 PM, we were successful in keeping our small children from getting cranky while waiting in line by promising them pool time in the afternoon!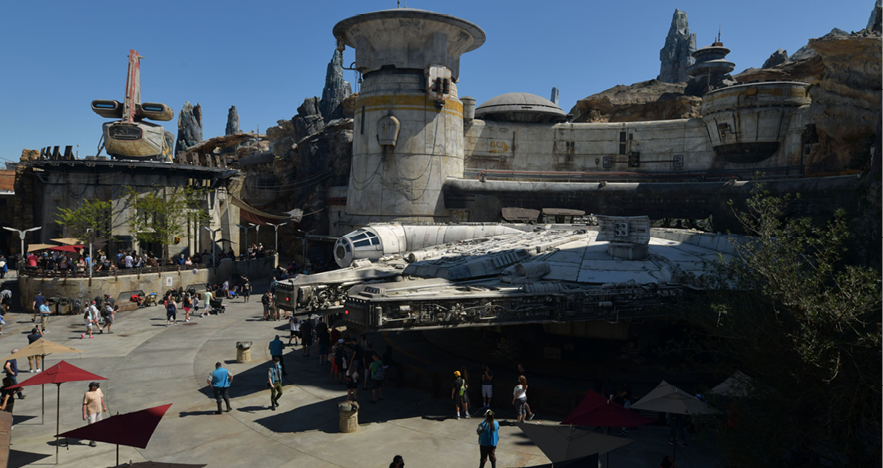 The Disney brand has gone above and beyond with regulations to keep guests safe. While lines appeared long, it was because Disney strictly enforced the 6-foot social distancing requirement by extending queue lines and clearly marking a safe standing distance throughout. Attractions, such as the Haunted Mansion, had adjusted experiences. For example, the Stretching Room in the Haunted Mansion was eliminated and guests walked straight through.
In Test Track, the ability to design custom cars was disabled and the computer design area was merely an extension of the queue. Instead of character meet-and-greet options, characters showed up in various, albeit distant, locations throughout the parks, including on the train station balcony, inside the fenced areas in EPCOT, etc.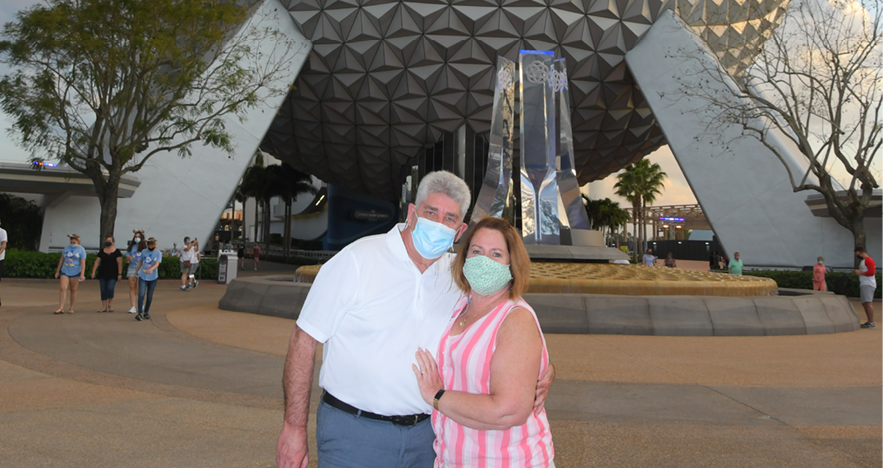 There was plenty of hand sanitizer throughout the parks and facial coverings were strictly enforced. How strictly? If a Disney photo was taken, and someone in the picture was not wearing the mask properly, Disney would not let guests have the picture! Interactive dining options, such as Ohana's, were either closed or the interactive portion of the experience was removed.
Resort hotels were not completely open.  Most of the hotels have Vacation Club wings that were open with limited capacity.  We stayed at Wilderness Lodge.  We opted for contactless check–in on the My Disney Experience app and went straight to our room.  We were able to opt-out of housekeeping if we wanted to.  They also asked if we wanted "trash/tidy" days, but even on those days, staff only picked up the trash – no tidying!   
Due to a reduced number of cast members, some transportation options, including boats, were not available.  Bus drivers gave assigned seats to each party as we boarded and every second or third seat had a plexiglass divider attached.  There were extra buses running to help keep individual bus capacity down. In-restaurant dining was also at reduced capacity.  Mobile ordering at quick-serve restaurants was encouraged. 
 As a frequent Disney visitor, I found the experience to be wonderful.  It was nice to have the parks so empty and not once did I feel uncomfortable!  
Clearwater Beach
From Walt Disney World, we drove to Clearwater Beach. We stayed at the Hilton Clearwater Beach Resort and Spa. The hotel is oceanfront with a pool adjacent to the beach – a perfect setting for those looking for a resort on the beach with stunning views of the ocean. It is located right in the center of town with bars, restaurants, and shops within walking distance.
Hilton Hotels have set a standard for cleanliness, especially during COVID-19. All staff members had masks, sanitizer stations were placed throughout the hotel, and rooms were sealed after cleaning. The resort is perfect for families and couples alike. Not far from the Hilton is the Bait House on Causeway Blvd – right on the marina with a deck out back that serves excellent food. There are only a dozen tables and sometimes there is a wait, but I highly recommend it.
Another excellent choice for breakfast or lunch is the Beach Shanty Café. Their homemade coconut syrup is excellent. It is located directly across from the Hilton. Clearwater Beach is a nice place to relax after a week at Walt Disney World.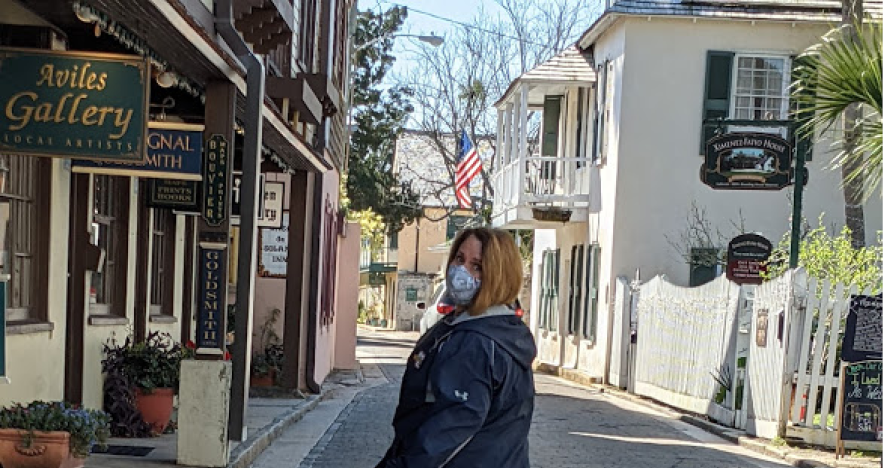 St. Augustine
We visited St. Augustine to do some genealogy research and visited many of the old historic areas.  The Old Time Trolley was very informative and a good way to learn the history of the town and the location of places we wanted to visit later.  They also enforced social distancing (plexiglass was installed between seat rows) and face coverings. On our first night in St. Augustine, we took a Ghost Tour. It was limited to 10 guests and masks were required. We heard some very unique stories about the city and its beginnings.  It was great fun!  
Due to COVID-19 restrictions, restaurants closed at 9:00 PM.  With smaller crowds, it was easy to find an open table at many area restaurants. Each restaurant we ate in was unique and excellent.   All restaurants and shops required masks to enter, hand sanitizer was always available, and the number of people allowed in a building was limited.  As with many families, St. Augustine was a brief stopover for us on our trip.  We were surprised at what a hidden gem it is.   
Overall, our experience with traveling during COVID was a good one. As with all travel, no matter what is happening in the world, being aware of your surroundings and acting in a safe and courteous manner is the order of the day.  That and enjoying the fact that you are indeed traveling again!