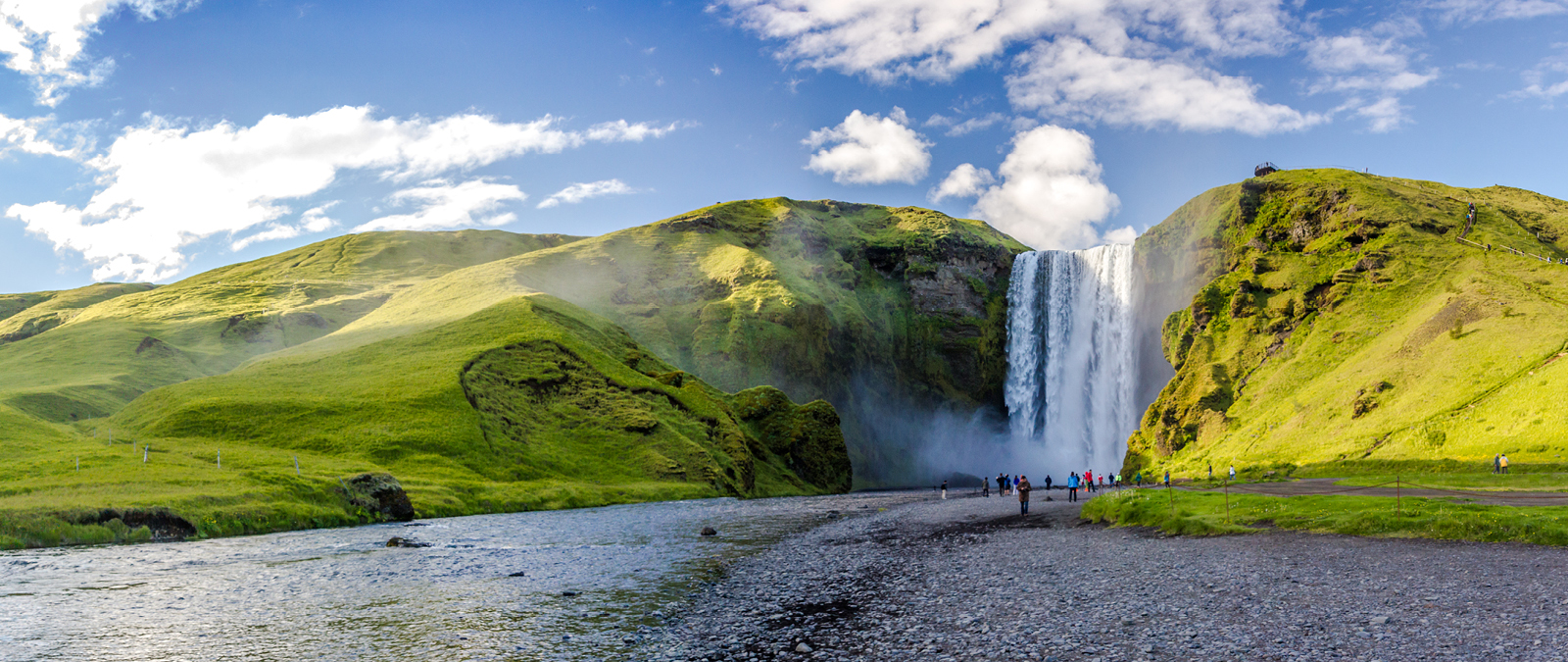 Trip Review
iceland
by Bryan Leibman
Bryan Leibman, President & CEO of FROSCH, recently returned from an exceptional family trip to Iceland. As the leader of a global travel company, Bryan travels extensively across the globe. He has been everywhere and experienced it all.
When Bryan is impressed with a destination, our Travel Advisors take note. And he couldn't wait to share feedback from his Iceland trip with the company as it's a 'wow' destination and nothing short of spectacular.
Read on for highlights from Bryan's trip and his favorite travel tips for Iceland.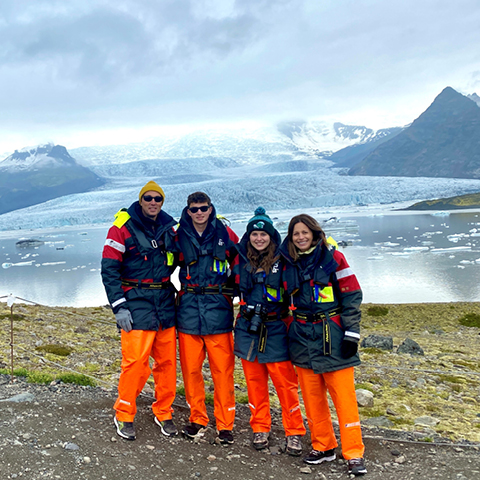 Why Iceland?
Iceland is perfect for anyone looking for an outdoor adventure with breathtaking scenery. Your Travel Advisor can cater to your fitness level and how active you want your trip to be. My wife and I were traveling with two of our children, both young adults, so we planned more adventurous experiences like ice climbing, ATV rides, and multi-hour hikes.
Families with younger children or less active travelers will still love Iceland and admire its beauty by going on shorter hikes and participating in less strenuous activities. Let your FROSCH Travel Advisor know your interests and they will plan your days accordingly. Iceland is a destination that everyone can enjoy.

Viewing an Active Volcano
Our hike near Fagradalsfjall was a highlight of this trip. We watched in awe as the volcano erupted and the lava flowed. Our expert guide shared his favorite viewing spots to witness this stunning phenomenon.
While we were hiking, our friends were in a helicopter watching the volcano from above. When we met up at the end of the day, they couldn't stop talking about the experience. It was the best helicopter ride they had ever taken.

Inside A Dormant Volcano
After about a 45-minute walk, we made our way to Thrihnukagigur, a volcano that last erupted over 4,000 years ago. The crater is essentially covered except for a small opening on the surface. A local Icelander found the opening by accident. A simple elevator shaft exists now to allow visitors to explore this immense crater. As we descended the 400 meters down, we marveled at the different colors of the rock formations and the massive size of the crater.
While this activity is not strenuous, it's still rated as moderate in difficulty. Parts of the crater have uneven surfaces, which can be difficult for those with balance issues. Let your Travel Advisor know of any physical limitations you might have so this experience can be modified or replaced for a more suitable (but still awesome) experience.

Geysers, Geothermal Pools & Waterfalls
The English word "geyser" is derived from the Icelandic term, Geysir, so it's only natural that we spent time exploring the Geysir area and geothermal pools. We watched in amazement as water bubbled and spewed from the ground, sometimes erupting every few minutes. Our day continued with a stop at the iconic Gullfoss Waterfall, where we saw the most beautiful rainbow.
Ice Caves, Black Sandy Beaches & More Waterfalls
There are ten thousand waterfalls in Iceland. While we didn't see them all, we did see quite a few. While visiting one of our favorites, we were able to walk behind it to take stunning pictures. During this same day, we explored black sandy beaches, hiked along steep mountain cliffs, and appreciated the astonishing beauty of the south shore. We finished our day with a visit to the impressive crystal blue ice caves.

Private Zodiac Sailing & Ice Climbing Lesson
Seeing glaciers by boat never disappoints. We sailed up close to impressive icebergs as our guide shared details of the rugged Fjadrargljufur canyon, the different lava layers, and intrusions. This entire formation dates to the Ice Age, about 2 million years ago. As we began our ice climbing lesson, we strapped on crampons, grabbed our icepicks, and enjoyed this "new to us" activity. Learning to ice climb was great fun, and no previous experience was necessary. Our guide also made a special stop on a small island and surprised us with hot chocolate and coffee and breathtaking up-close glacier views.

Jeep Tour & Photographing Puffins
In Thorsmork, we set out for the ultimate adventure. We had the most wonderful guide for the day, who holds world records for the most climbs and the fastest climb in Iceland. We met on his farm, where he drove us to the sandy beach, through natural streams, and into the cliffs to photograph puffins. We were in Iceland at the perfect time to see these interesting creatures.
Private Horse Farm Visit
We had the opportunity to meet local farmers who showed us their horse training process. We spent the afternoon horseback riding through the beautiful countryside. The farm owners treated us to a lovely traditional meal and shared stories about the Icelandic culture and traditions.
Every Day Brings New Adventures in Iceland!
We spent 12 days in Iceland and could have stayed longer. I will never forget the breathtaking scenery, lush vegetation, dramatic mountain views, and endless waterfalls. Along with the experiences above, we walked through a glacier tunnel, rode ATVs, whitewater rafted, whale watched, toured Reykjavík by foot and by helicopter, and relaxed at the Blue Lagoon. We plan to return to experience Iceland in different seasons (and take the special photography classes our Icelandic partner offers)! Iceland should be on everyone's list of places to visit.
Bryan's Travel Tips for an Exceptional Iceland Trip
Base Yourself in Different Areas for the Full Experience.
I prefer to base myself in one place for about three days, explore, and then move to a new area. You will have less drive time in the car each day. You have more time to spend doing the things you want to see and do.
Don't DIY Iceland. You Want the Knowledge & Expertise of Local Guides.
The weather changes by the hour in Iceland, so you want to have a flexible itinerary. Our in-destination partners monitor the weather during your trip and adjust your day-to-day itinerary for you to have the best experience each day of your trip. Our local experts know the hidden gems, best viewing spots, and fastest travel times. You get to sit back and enjoy the trip!
Take Advantage of the White Nights.
During the summer months, the sun doesn't set. You have sunlight for virtually 24 hours a day. Several times during our trip, we arranged evening tee times and played golf after dinner. You'll also have plenty of daylight during a 5:00 AM workout. Having so much daylight gets you energized.
Start or End Your Trip at The Retreat at Blue Lagoon.
The Retreat Hotel is the only 5-star hotel in the country. It's fabulous, worth it, and a great way to start your trip. If your budget allows, your Travel Advisor can book the night before arrival so you can check-in right away. You can rest for a few hours and then spend the day enjoying the Blue Lagoon. Relax in the geothermal waters, use the spa facilities, reserve a mud treatment, or experience an in-water massage, which is fantastic!
Another option is to end your trip at The Retreat Hotel. You'll be able to relax and rejuvenate after all your Icelandic adventures. If you decide to do this, your Travel Advisor can arrange a stay right in downtown Reykjavík. After resting in your room, see the sites or spend the day at the Sky Lagoon, an oceanside geothermal lagoon with beautiful views!
Consider The Retreat at Blue Lagoon for Upscale Global Meetings.
If you're looking for a central meeting location to host an event for your North American and European clients or employees, Iceland is a great idea. The Retreat at Blue Lagoon is well located, offers excellent facilities, and is near many exciting attractions. Hiking, tee times, helicopter rides, and other activities can easily be arranged to entertain your attendees for a memorable event.
Take Your Travel to the Next Level
Our travel advisors have 'been there, done that' in destinations across the globe. You'll appreciate our excellent service and honest, genuine advice when we suggest the perfect place to stay, the experiences to splurge on, the attractions to skip, and the travel restrictions you need to know. You'll be a VIP every time you travel with FROSCH.
Let's start planning your next adventure; we'll take care of all the details.