Trip Review
A Dream

of Greece
by Jennifer McGuigan
Growing up, Jennifer McGuigan, FROSCH's Vice President of Leisure Development & Support and her sister dreamt of visiting Greece.
As kids, they admired the picturesque posters of scenic Santorini adorning the walls of their favorite Greek restaurant. The sisters were excited to finally fulfill this dream with a fun Greek sailing on an Azamara Cruise!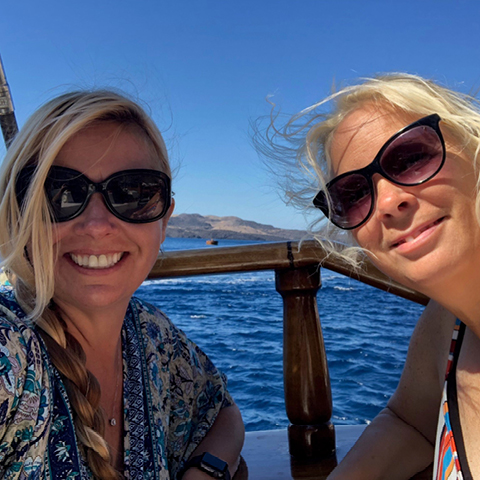 A Sweet Surprise
Our trip kicked off in style, thanks to my husband, who surprised us with a special VIP Meet and Greet. We stepped off the plane in Greece and were immediately greeted on the tarmac. After we waltzed through Customs and Immigration, our driver/guide showed us to the Mercedes and handed us a glass of champagne to celebrate the start of our vacation.
As we made our way to our pre-cruise hotel, our driver shared engaging stories from his childhood, the food we must try, and Greek sayings we should know. He gave us a taste of the local life in Athens.
Our luggage, unfortunately, didn't make it to Greece, but we weren't bothered at all. The VIP Meet and Greet service took care of all the details of locating our luggage and transferring it to our cruise ship. We got to relax and enjoy our trip!

A Different Way to Cruise
With an Azamara cruise, we had the luxury of exploring smaller ports that larger cruise ships cannot call on. With Azamara's focus on destination immersion, we took advantage of the extended time in each port.
Our full day in Rhodes was exceptional. We adored strolling around this perfectly preserved Medieval city, admiring the gorgeous sea views along the way.
We also spent a full day in Santorini, which was a delight. We rode the cable car that overlooks the cliffs, walked the narrow cobblestone streets of Oia, and hopped on a boat to explore a volcano and thermal springs.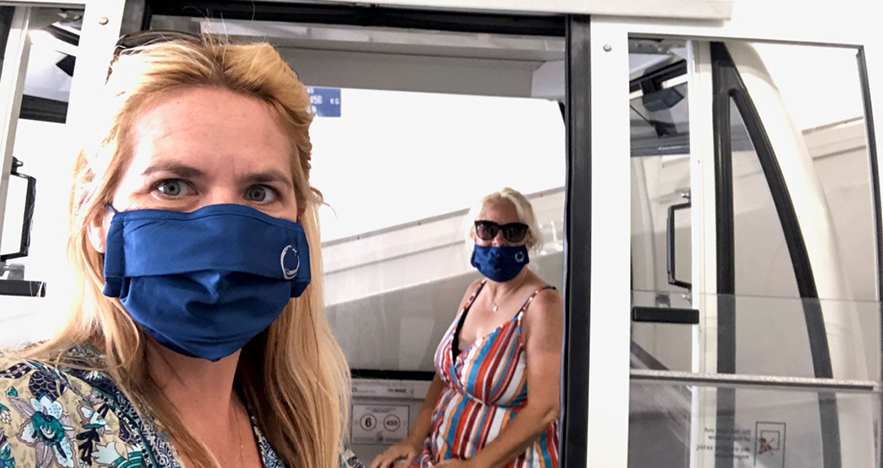 When you travel, you often wonder if the trip will live up to the hype. Will the destination look like all the perfect photos posted on Instagram?
As we sailed, watching the beautiful sunset overlooking Oia, we decided that this trip lived up to our expectations and then some. We were traveling through the posters we so fondly remembered from our childhood. I can't imagine a better experience!
Special Moments
Your FROSCH Advisor will recommend a pre- or post-cruise extension, which I would suggest as well. We spent a few days before our cruise in Athens at the Hotel Grande Bretagne. The central location of this hotel was priceless. We enjoyed an exquisite dinner with stunning views of the Acropolis – right from our balcony!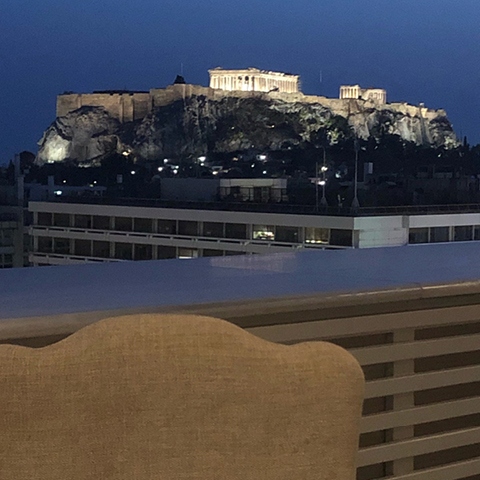 I arranged a walking tour to gain more insight into the rich culture and history of Athens. Our tour guide, Aristotle, showed us the sights, sprinkling in amusing stories throughout the tour. We had a fantastic time.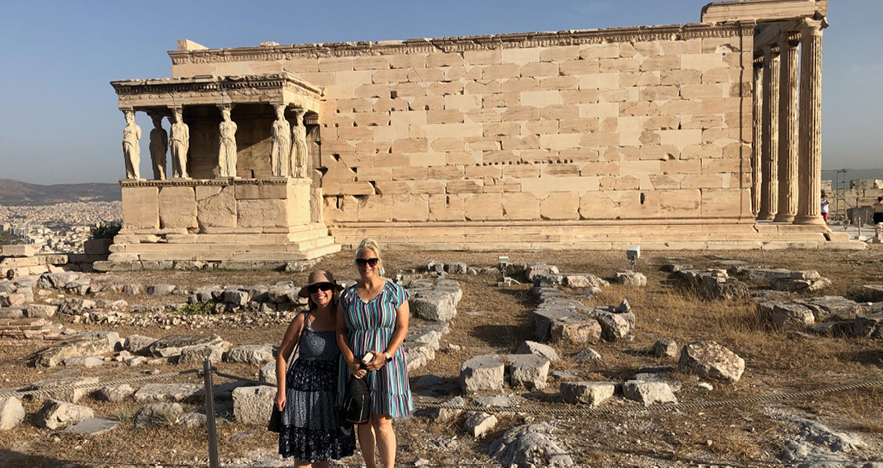 People often tell me about their hesitation to travel during this time. While I understand this sentiment, I encourage people to get back out there and take those trips you've always wanted to take. My sister and I will cherish this Grecian odyssey forever!
Jennifer's Tips
Plan for Paperwork!
Your FROSCH Travel Advisor will guide you through the ever-changing travel environment and assist with any travel questions you may have. We changed planes in Toronto, and we were required to complete extensive online documentation before our trip. Now, more than ever, it's imperative to use a knowledgeable Travel Advisor to guide you through the travel process.
VIP Meet and Greet? Yes, Please!
With this service, you no longer need to worry about long lines at the airport, where to catch a taxi, or navigate a new city. I'm so glad my husband treated us to this service. He might wind up regretting it, because I don't know if I ever want to travel without it again!
Stay Centrally Located in Athens
Athens is an incredible city with amazing sites. This is where democracy started after all. A centrally located hotel stay allows you the opportunity to see and do more.
Beat the Crowds
With tourist numbers still low and ships not sailing at full capacity, we did not experience the masses of people that you often read about. Simply put, travel now before anything changes!
Take Your Travel to the Next Level
Our travel advisors have 'been there, done that' in destinations across the globe. You'll appreciate our excellent service and honest, genuine advice when we suggest the perfect place to stay, the experiences to splurge on, the attractions to skip, and the travel restrictions you need to know. You'll be a VIP every time you travel with FROSCH.
Let's start planning your next adventure; we'll take care of all the details.