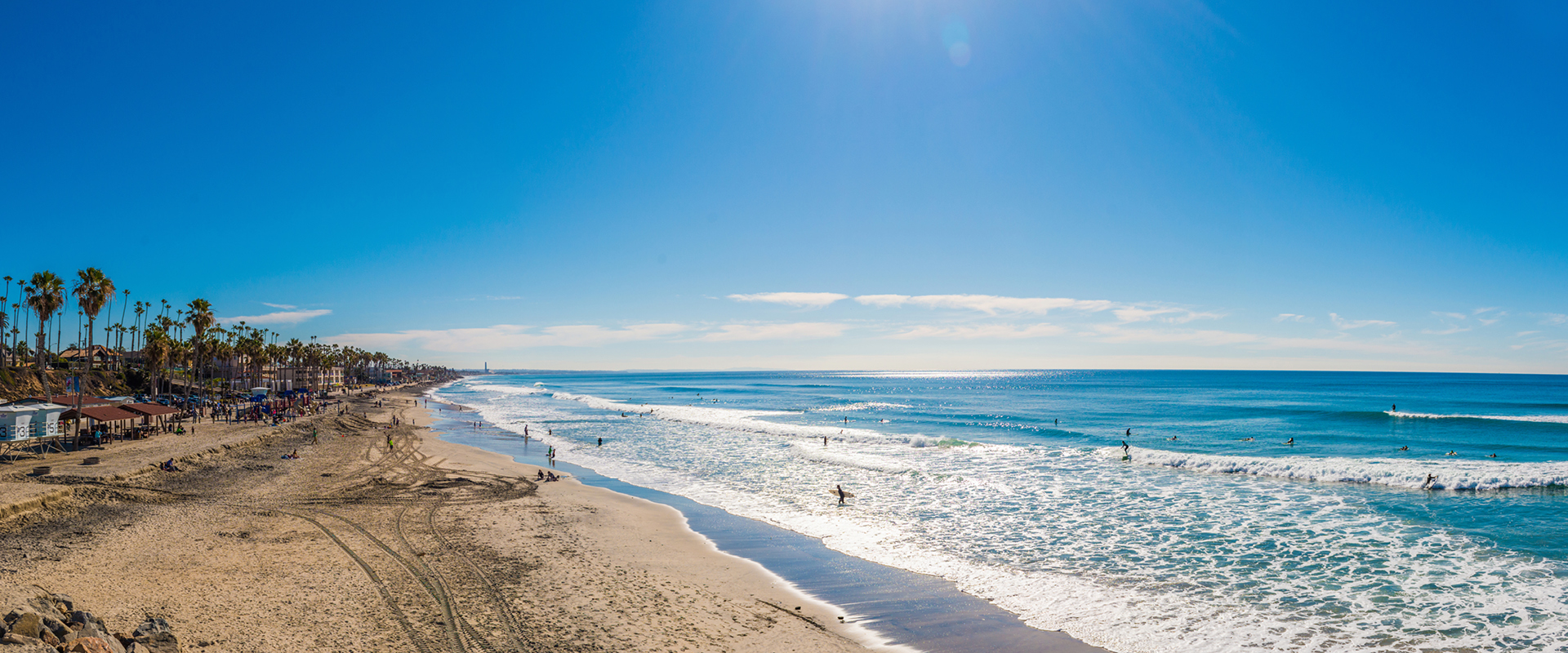 The Big Adventure Before Baby!
Tips & Tricks
for Great
Babymoons
By Courtney Kelly
Welcoming a new addition into your family is an exciting time in anyone's life! Parenthood is a true joy, but with the responsibility of becoming a parent comes the difficulty of finding quality one-on-one time with your partner, spouse, or even yourself.
That is why the time right before your new bundle of joy arrives is a perfect time to reconnect, clear your mind, and relax.
Enter – the babymoon.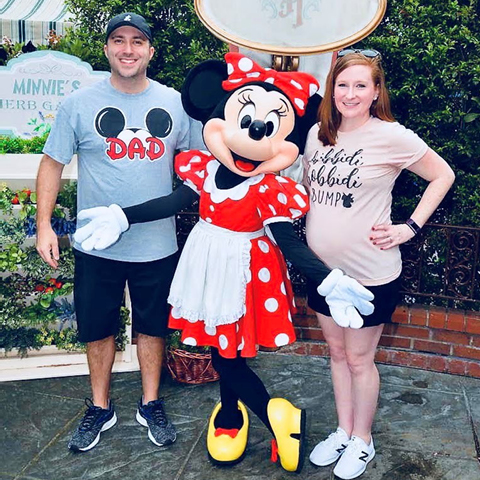 A babymoon is like a honeymoon, in that it is a milestone vacation – celebrating the new bundle of joy coming into your life and spending quality time together before the baby's arrival. The idea is to enjoy a romantic, relaxing time with your partner, or a refreshing fulfilling moment alone… no matter where you are.
The "Babymoon" trend has grown in popularity over the years, with nearly 60% of parents-to-be reporting taking a pre-baby trip … which is approximately 2 million babymooners each year (in the US alone).

Finding the Right Time
In my case, my husband and I found out we were expecting on St. Patrick's Day of 2018 (luck of the Irish!). In my Business Development role at FROSCH, I knew that our annual industry conference of GBTA would be taking place in late summer in San Diego. With my pregnancy timeline putting me right around 25 weeks during the conference, we thought it would be a perfect time and location to tack on a babymoon to what would be my last business trip for a while.
Attending GBTA at 25 weeks pregnant meant a lot of time and socializing while on my feet. So, by the time the conference wrapped, I was ready for a bit of R&R. My husband flew in and met me in Downtown San Diego. We stayed at the Westin San Diego Downtown. It was a great location – with local restaurants within walking distance, the San Diego Padres Petco Park close by, a rooftop pool, and accessibility to all that the San Diego surrounding areas have to offer. I wanted to spend this last one-on-one trip doing some of our favorite things and fun activities together.
Staying Active & Together
We rented a car so that we could be mobile around the city and drive to other So-Cal destinations, as well. We took one day to beach hop, starting the day at Torrey Pines, watching paragliders and the ocean from the breathtaking cliff viewpoints. We then hopped over to La Jolla to see the infamous seals and sea lions along the coast. We ended the day at the Hotel del Coronado beachfront – which is one of my top-ten beach destinations! The architecture of the hotel is incredible and the beaches there are so nice and peaceful.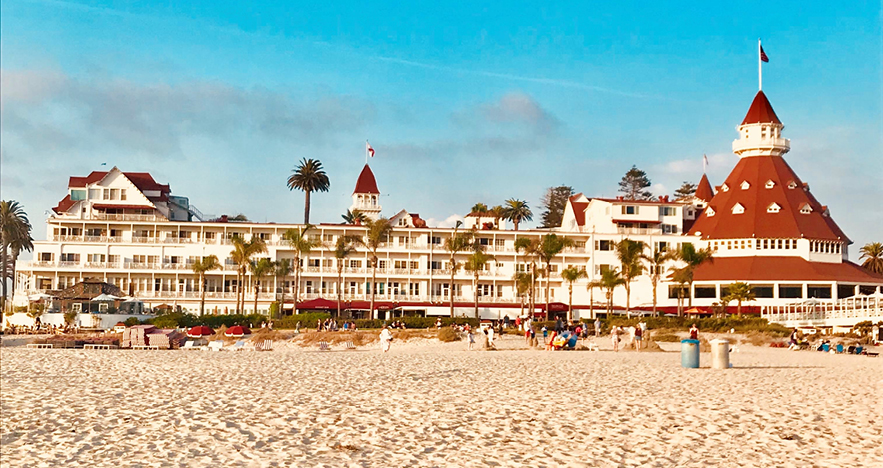 The next day, we took a road trip to Simi Valley to visit the Reagan Presidential Library. My husband has been to nearly every Presidential Library in the US, but the Reagan Library was one that he had not checked off his list yet. (Plus, I share a birthday with our 40th President!) It is a gorgeous museum, located on the hilltops of Simi Valley. At the museum, one very cool experience is the original Air Force One that flew President Reagan over 660,000 miles – to 26 foreign countries and 46 US states – where you can climb on-board and experience it first-hand. This "flying White House," served seven U.S. Presidents from 1973 to 2001. Being in the travel industry, this is an awesome sight to see and to learn what a typical travel day and year look like for a sitting President.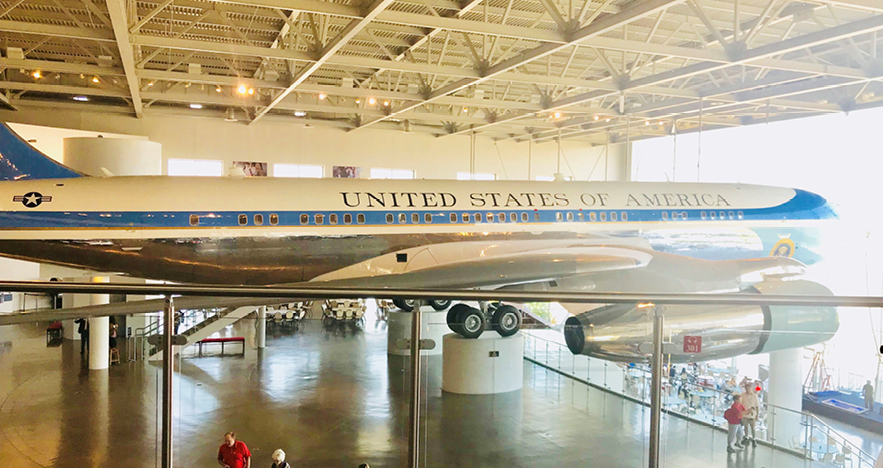 We then drove back down to Anaheim and spent the night at Disneyland. We explored Downtown Disney and did some shopping and dining. While shopping, we purchased a Disney Animator original drawing for our future-baby room, documenting not only my love for Disney but marking our babymoon destination. We did the theme parks for one day – Disneyland and Disney's California Adventure. There are obvious limitations to what you can and cannot do at the parks when it comes to the rides while pregnant, but it was nice to go at a slower pace, walk around, see shows, fireworks, and take pictures of us together, with our growing baby bump. It's fun to look back at pictures from that time and tell our daughter that she was with us at Disneyland! We even got her first set of Mickey ears with our chosen baby's name on them.

Pacing is Key
We did A LOT on our Southern California babymoon, but it wasn't exhausting by any means. We made sure that we built in downtime, breaks from the heat, and relaxing snacks and meals. But, most importantly, it was about just spending time together and having fun as a couple.
There is no "right" or "wrong" way to spend your babymoon. Whether it be a week-long vacation, a quick weekend getaway, or even a staycation close to home – the time can be used to focus on each other and/or yourself – celebrating the many adventures that will be in your future.
Some Key Pointers for Your Babymoon:
There is no RIGHT or WRONG way to Babymoon – Do what is best for you or you as a couple. Enjoy time to yourselves, whether that be nature trails, museums, playing tourist, couples' massages, restaurant hopping, and more. It can be as active or inactive as you want it to be.
Perfect Timing – The "sweet spot" for a babymoon is anywhere from 14-28 weeks pregnant. You want to be sure you can enjoy it and are feeling your best. For most women, this is during the second trimester.
Talk to Your Doctor – Does your itinerary work for you and your individual pregnancy? Your doctor will advise on precautions that you need to take, foods to avoid, vaccinations needed, and additional recommendations.
Where to Go – Consult with your doctor, but it can be as simple as being a tourist in your own backyard with a staycation, staying domestically, or venturing internationally. Discuss your limitations with regard to travel and your individual pregnancy.
Domestic – Bring your insurance card with you. Ahead of your trip, look around for local hospitals, doctors, or providers in the area in case of emergencies while traveling.
Abroad/International – Ask your travel advisor about travel insurance, which will be especially handy if you need to see a doctor abroad. It is also a good idea to register with the American Embassy or Consulate once you reach your destination, in case you need extra help leaving the country in an emergency. Check out the International Association for Medical Assistance to Travelers for a worldwide directory of doctors.
Cut Off Times – Most airlines will allow you to fly up to 35-weeks pregnant, but international flights may cut-off flying while pregnant sooner than that. Many cruise lines will not allow you to board after 25-weeks pregnant. Your travel advisor can assist in navigating the guidelines.
Road Trips are Great! – Road trips are a great bet for babymooners! You can move at your own pace and make frequent stops along the way. We recommend driving only 5-6 hours at a time, taking breaks, and packing healthy snacks and drinks. Having a car is great to be able to change your plans based on how you are feeling that day.
Take Your Travel to the Next Level
Our travel advisors have 'been there, done that' in destinations across the globe. You'll appreciate our excellent service and honest, genuine advice when we suggest the perfect place to stay, the experiences to splurge on, the attractions to skip, and the travel restrictions you need to know. You'll be a VIP every time you travel with FROSCH.
Let's start planning your next adventure; we'll take care of all the details.