Effortless Business Travel Style
Tips & Tricks from FROSCH's Corporate Travel Team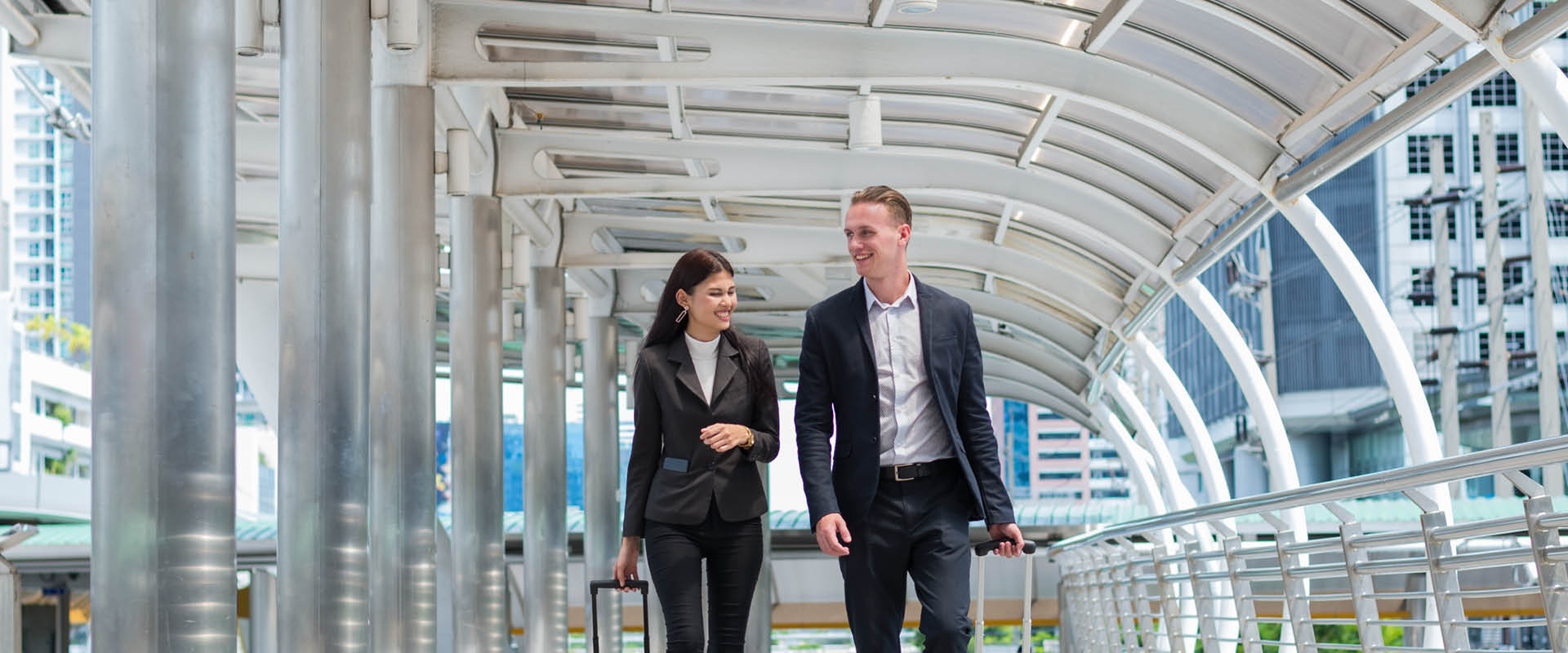 When you are traveling for business, your mind is running a million miles an hour thinking about every aspect of your trip – from packing everything you need, to making your meeting on time, to nailing that business presentation, to having a seamless travel experience. Your on-the-road style and fashion should not be one of those worries!
We polled FROSCH's Corporate Travel Team for their expert tips and tricks on travelling for business with ease and style!
Packing for a Business Trip
Packing the right way for a business trip starts with the right luggage. Look for a sturdy, roomy travel bag.
Carry-on bags with wheels made from durable materials are a business trip staple.
If it is a shorter trip, a solid hand-held bag is perfect and can fit under the seat in front of you or in the overhead bin.
Also, making sure you have a great carry-on laptop bag is essential.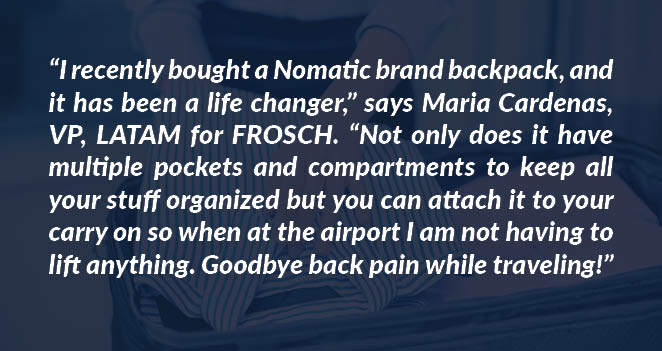 No one wants to hoist a super-heavy suitcase into the overhead bin! Packing light is the way to go. Pack only what you need for the number of days you will be traveling.
Rolling your clothes while packing allows you to minimize wrinkles and creases, while also saving space (if done right). Silk, polyester, and Oxford fabrics are easy to roll up and require minimal ironing. Also, utilizing the inside of your shoes to store rolled ties, socks, and underwear is an easy, space-saving packing tip.
Business Travel Fashion
The key is to think ahead about your upcoming business trip agenda and then carefully select versatile pieces that are all within the same color palette. Neutrals are the best way to go – think black, white, navy, gray, and brown – as they match each other, and any other color added to the mix.
Start with basic tops. Good options include a classic wrap, button-up, turtleneck, or bodysuit. These are perfect options, as they can pair well with dresses, skirts, and pants, and always looks professional.
Pair your tops with a variety of bottoms. Options include a solid pair of jeans, pencil skirts, sleeveless dresses, ankle pants, and more. Straight or skinny ankle pants are perfect for business travel, as they work with heels and flats, allowing you to switch quickly between the two when on-the-go.
Sleeveless dresses are a great option as well, as they can be worn on their own, with a shirt underneath for a layered look, or a sweater or jacket over. For jeans – stick to minimal distressing and darker washes. Jeans are perfect for travel and less formal after-hours events.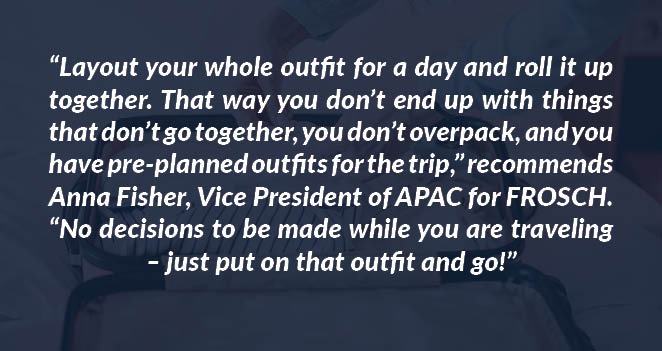 Layering pieces – such as a great fitting blazer, coat, trench coat, sweater, and cardigan – are business trip staples. Layering pieces allows for additional warmth and dimension and adds a business-polish to your look.
Blazers pair great with jeans, over a dress, with pants and more. If you are travelling to cold-weather destinations, a classic trench coat is never a bad option. A longer coat length elongates your look.
Keep It Neutral But Add Some Style!
While keeping most of your business trip wardrobe in neutral tones, add flair to your look with some fun pops of color or patterns through your accessories.
Scarves, simple jewelry, and a structured tote (to hold your laptop and serve as a purse / catch-all bag for the plane) are perfect areas to add some personality to your look, without weighing down your bag.
For shoes, the rule of three applies. Pack one pair for travel and two pairs for business. Keep them semi-neutral, matching the clothes in your business wardrobe.
Boots/booties and heels are perfect for your meetings. Flats can be worn for meetings and can transition over for travel days and commuting.
The key is to find shoes that you will be comfortable in for extended periods of time (i.e., on trade show floors, needing to dash from a meeting to catch your flight, etc.).
Packing Tips for Men
Building a capsule business wardrobe is essential. Keep pieces classic and versatile.
Pack comfortable pants that can be dressed up or down. Be sure to match your fabric choices with your destination and season.
Tweed, cashmere, and wool will help you stay warm in cooler climates, and cotton and linen will keep you easy-breezy (yet, business professional) in warmer destinations.
Keep your shoes simple! A classic loafer is perfect for travel, as they allow easy on-and-off for security checkpoints and can be dressed up or down.
Other additions to consider packing include basic t-shirts, polo shirts, a cardigan or sweater, a few tie options, and dark wash pants or jeans.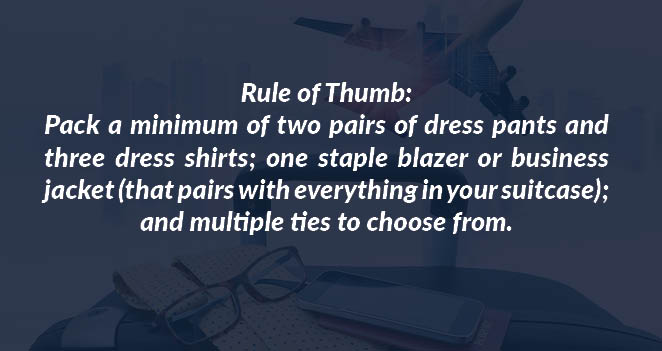 Great professional clothes can be found in most name brand stores. Some of our favorites include J. Crew, Banana Republic, Ann Taylor, Nordstrom, and Macy's. Other stores that are worth exploring are TJ Maxx, Marshalls, and Nordstrom Rack, where you can find name-brand perfect wardrobe staples for nearly HALF the cost, at times!
Beauty On-The-Go
A large part of on-the-go travel style is a quick-and-easy beauty and wellness routine.
Some of our recommended favorites include travel sized toiletries and daily essentials, dry shampoo, an eye mask, and essential oils.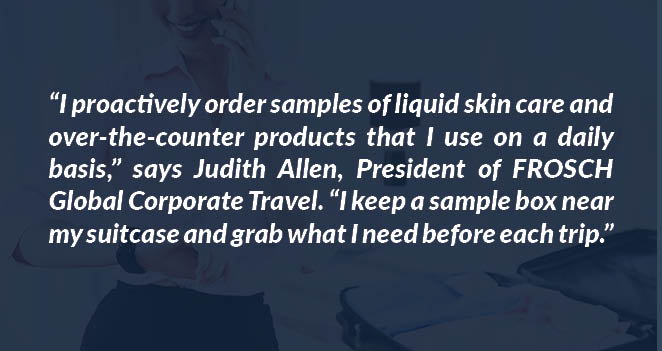 Dry shampoo is a useful tool in your travel arsenal. Smaller travel versions are perfect for revitalizing and refreshing your hair after long travel days, especially when heading straight to a meeting. Some of our favorite brands include Batiste Dry Shampoo on the Go and Drybar Detox Dry Shampoo.
A great eye mask and essential oil pillow sprays come highly recommended for those long overnight flights or getting some solid beauty rest in your hotel room.
Business Travel Style Hacks
Some additional travel hacks that the FROSCH Corporate Team suggested:
Wear Your Bulkier Packing Items – i.e., coat, blazer, boots, sneakers, etc. Pair a blazer or jacket with dark jeans or chinos, and a plain t-shirt, polo, or Oxford shirt for effortless and stylish air travel style.
Unpack Immediately – The longer clothes stay in the bag, the more they will get wrinkled.
Portable Steamers – Irons and ironing boards in hotel rooms are not always the most reliable.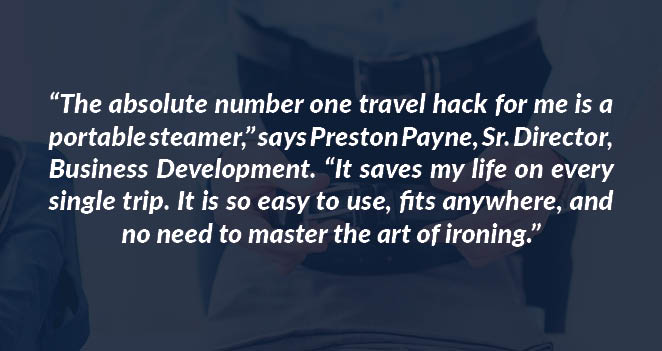 Noise Cancelling Headphones – Coming in a variety of colors, noise cancelling wireless headphones are perfect (and stylish) for flights where you need to get work done and drown-out the surrounding noise.
Keep Flats / Flip Flops Accessible – Keep a pair in your carry-on bag or back-pack for quick wardrobe changes along the way, allowing you to be quicker on-foot through the airport, rather than in heels.
Avoid Checking Bags (if you can) – We have all been there… you check your bag, and it misses your flight, leaving you with nothing but the clothes on your back, and a small carry-on. To ensure you have your meeting clothes ready-to-go, avoid checking a bag for business trips whenever possible.
Dopp Kit – Small dopp kits are perfect for your carry-on bag, allowing you to keep phone cords, computer cables, sunglasses, small toiletries, and more all in one place.
Mobile Battery Pack – We highly recommend bringing a pre-charged emergency backup mobile battery pack. One thing that is not stylish is running late to a meeting… so don't let low power on your phone and not being able to hail a car be the reason for your late meeting arrival.
ELEVATE YOUR CORPORATE TRAVEL PROGRAM
Empower your travelers with FROSCH's business travel management solutions built on leading technology and high-touch, personalized service.