GuideMe

 by FROSCH

Keeping Travelers Informed
As the global travel climate continues to evolve, FROSCH is committed to guiding you and your travelers throughout your journey, from before the booking process begins to after the trips' conclusion.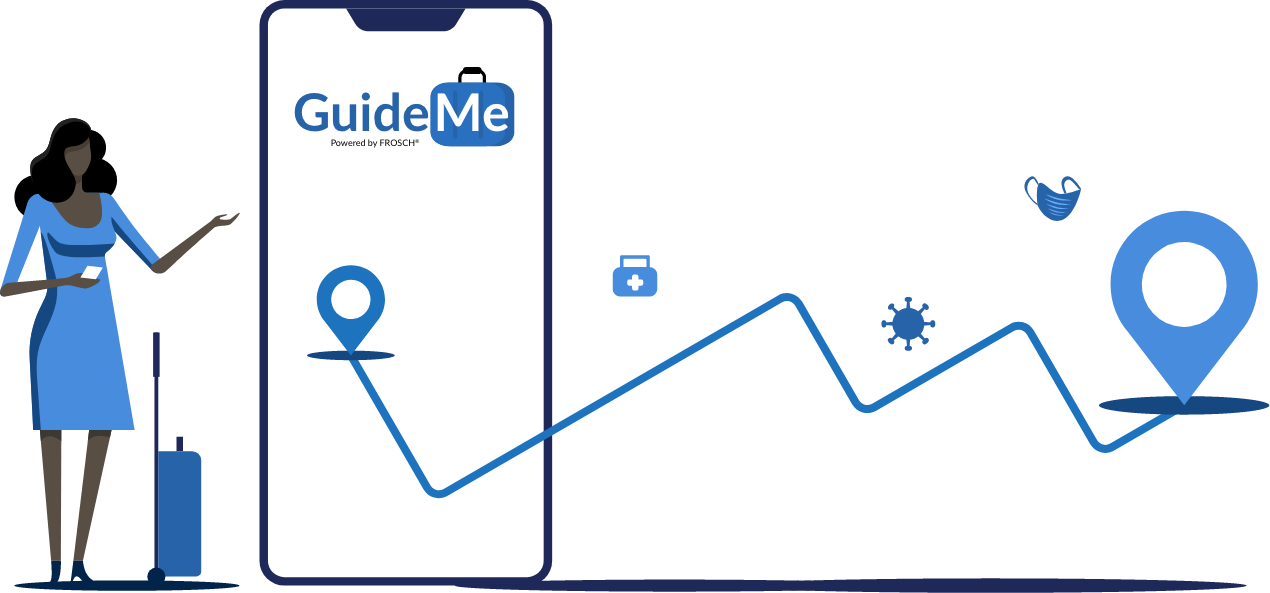 Will I be allowed entry into this destination?
Is a face mask necessary? Do I have to quarantine?

Let FROSCH's GuideMe tool provide your travelers with the answers they need.
Travel comes with a lot more questions nowadays.  
Throughout the last few months, we've learned a lot, but COVID-19 presents us with more concerns about our travels than ever before. The new normal of travel requires a TMC that can assist travelers and travel managers in an increased capacity.
That's why FROSCH has created GuideMe. Combining the personal approach to travel that FROSCH is known for with new technology and communications ensures your travelers are prepared before, during, and after their journey.
Making Informed Travel Decisions  
The technology behind GuideMe, coupled with the guidance of your FROSCH travel team, enables you and your travelers to undertake risk and cost assessments to make informed travel decisions, saving you time and money. Every trip will be different, requiring not only the resources to provide relevant, current guidance but the personal touch of a FROSCH Travel Advisor.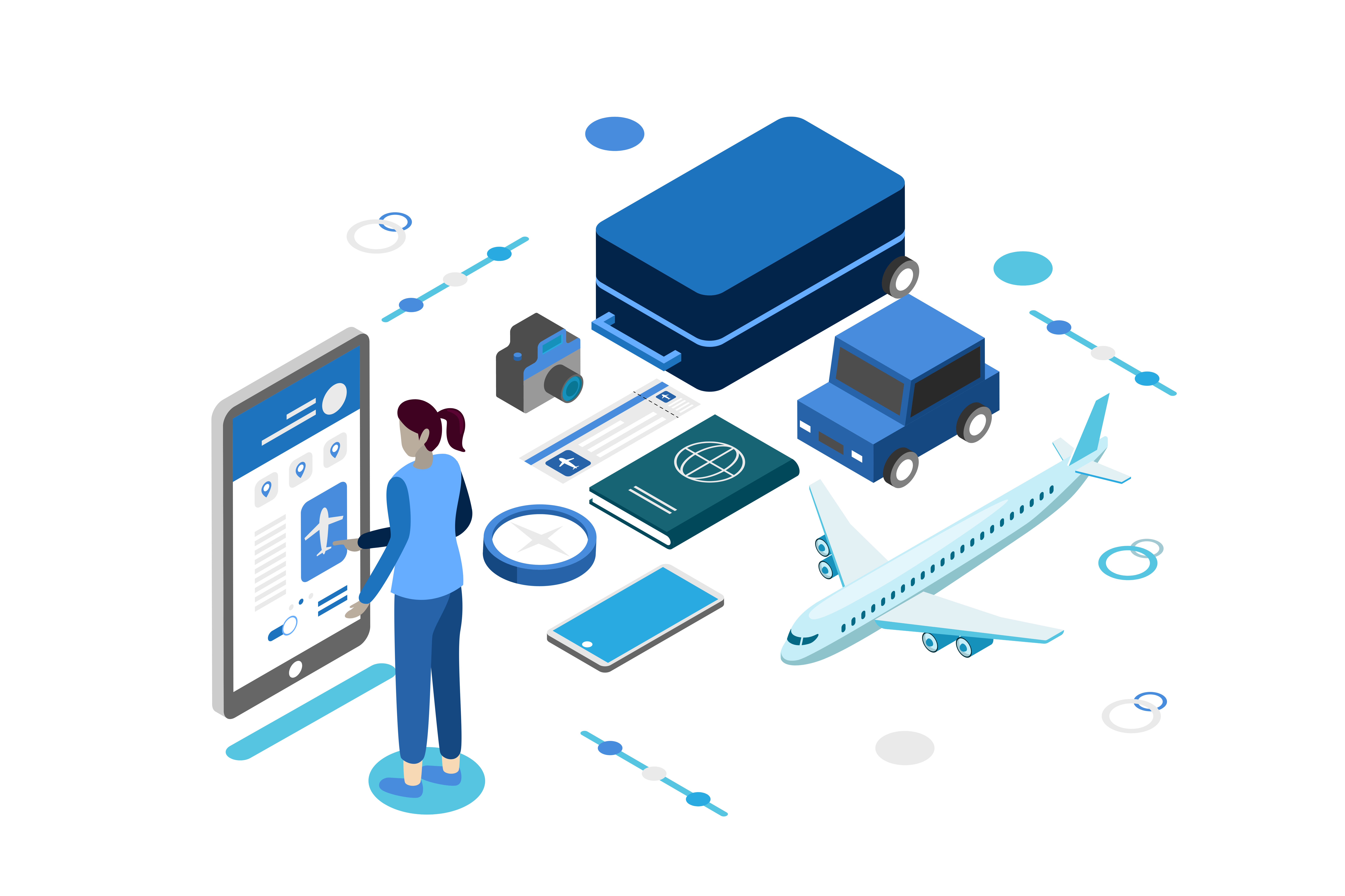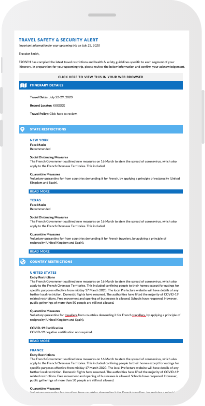 Communications to Ensure Travel Preparedness  
Keeping your travelers safe and 'in the know' has never been more important. GuideMe provides timely, automated notifications to your travelers to ensure they are prepared to travel. All notifications will include current information regarding travel restrictions specific to the itinerary, as well as PPE requirements, operational updates, and more.
Fifteen minutes after a booking has been made, travelers will receive an itinerary confirmation with a travel notification link.
Forty-eight hours prior to departure, travelers will receive an email notification with the same information, as well as a link to acknowledge their review of the information.
Manage Risk with Real Time Data
In today's rapidly changing world, Travel Managers not only require the ability to track travelers in cases of emergency but also have convenient access to information about the risks they may be facing. In the next phase of GuideMe, in partnership with Obex for Business, Travel Managers will have the ability to track travelers on a map with a travel assessment overlay.
Travel Managers concerned with liability can rest assured with the "Acknowledgement" feature. Forty-eight hours prior to departure, travelers will receive an email with the most current travel restrictions related to their itinerary; their confirmation will be logged for future reference. Future enhancements include the ability to customize the messaging and acknowledgment form.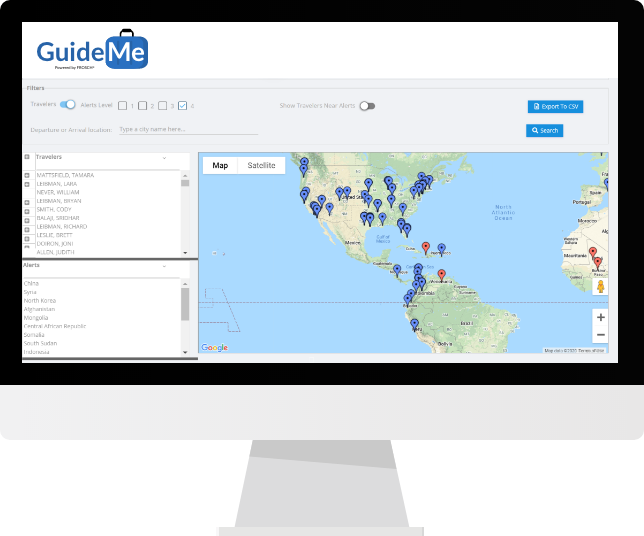 But technology can't do it all…  
While the technology behind GuideMe is a cutting-edge way to provide your travelers with the information they need in real-time, GuideMe is an industry-leading solution thanks to the people behind it.
FROSCH Travel Advisors will have access to all of the information, and more, to truly guide travelers throughout their journey. Travel confidently with the travel team you trust and the cutting-edge technology you need.