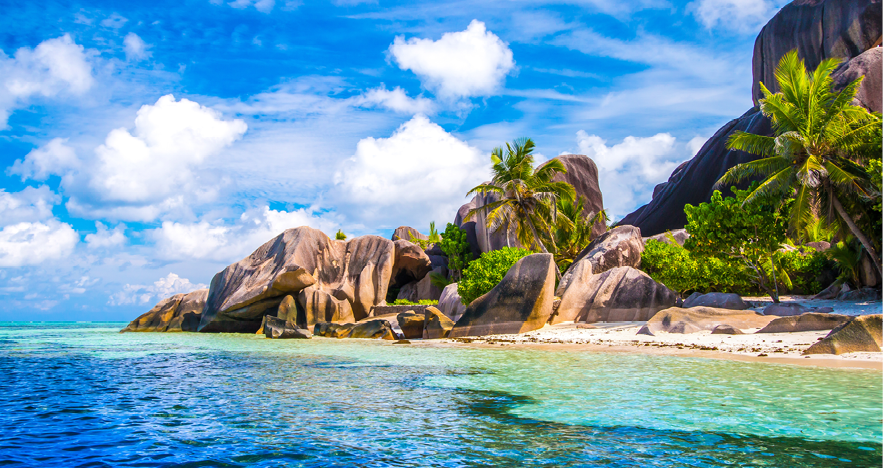 My journey to the Seychelles certainly began on a high note, as I settled into a plush couch in the Turkish Airways Lounge at Istanbul Atatürk Airport. During my three-hour stopover in Instanbul, I enjoyed a glass of crisp Sancerre and a steaming bowl of delicious Turkish dumplings.
The time passed almost too quickly, and before I knew it, I was boarding the seven-hour flight from Istanbul to Mahe. Upon arrival in Mahe, my passport was stamped with the indigenous "coco de mar" and I was off on a propeller plane to the island of Praslin.
I was awestruck as we glided over breathtaking shades of turquoise, sweeps of white sand, lush islands, and tiny coral outcrops dotting the sea below. After touching down, I took a short car ride to the dock for my speed boat transfer to Six Senses Zil Payson on Felecite Island. (If you'd like to shorten the transfer time, ask your FROSCH Travel Advisor about helicopter transfers.)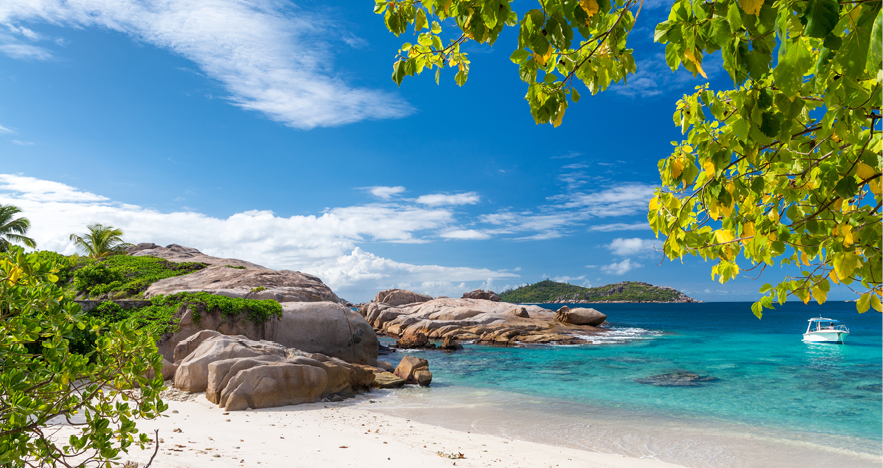 Tip: Pack a change of clothes and swimsuit in your carry on when flying from Mahe to the other islands. Due to weight restrictions on these smaller aircraft, your bags might not come with you.
Felicite, home to Six Senses Zil Pasyon, is a small, heavily forested island, making it an ideal destination for those seeking the utmost in exclusivity. It's lush vegetation, massive granite boulders, and picture perfect beaches create a dramatic and breathtaking landscape. Every villa at Six Senses has a stunning ocean view, private infinity pool, and large terrace, perfect for enjoying an in-villa breakfast
Tip: Try the Dairy-free coconut vanilla pancakes with lime syrup!
Decorated with hues of turquoise and natural wood, the serene interiors reflect the natural beauty of the island itself. Six Senses is the perfect escape for honeymooners, couples, spa enthusiasts and wellness gurus alike.
Even though the resort is ultra-luxurious, there is still a casual feel and I felt right at home, thanks to amenities like a self-serve ice cream cart and a cozy library where guests can borrow books at their leisure.
Tip: Take a morning hike through the rainforest, or join some of the fantastic hotel staff on a sunrise run on the island of La Dique.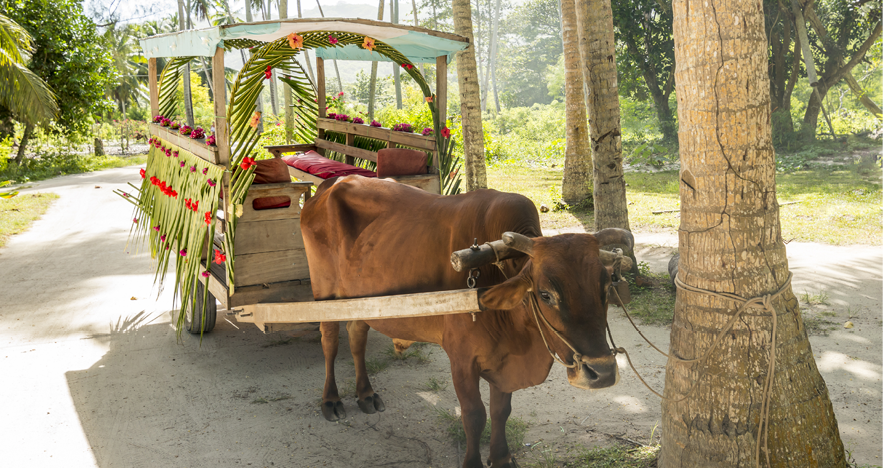 The ultimate romantic getaway is the Maia Luxury Resort & Spa, dotted with thatched roofs villas, and tucked away in the lush hillsides on the southwest coast of Mahé, overlooking Anse Louis beach.
The resort is just 25 minutes from Seychelles International Airport. Its spacious villas are nestled in the palm trees, and made to feel like you're the only person at the resort.
The villas have an incredible outdoor space, with large terraces, daybeds, two infinite pools, and soaking tubs. The butler service provides an unparalleled luxury experience.
You could truly stay at Maia and never leave your villa! Maia Luxury Resort & Spa has but one restaurant, Tec-Tec. What it lacks in quantity, it makes up for in quality – offering a fusion of Asian, Mediterranean and Creole cuisine. Try the assorted sashimi and smoked swordfish salad.
Tip: Book a spa treatment- the Balinese-style spa is phenomenal with its open-air treatment rooms enclosed by massive palm trees, hibiscus flowers and lemongrass. It felt like I was in the middle of the rainforest.
The Four Seasons Seychelles is a huge resort that feels surprisingly intimate, thanks, in part, to its tropical jungle hillside setting and private bay allowing for stunning views of the sunset.
Holding true to its classic level of hospitality, Four Seasons had a bottle of Veuve Clicquot on ice to welcome guests to their villa. The staff here is fantastic- always making you feel welcome without a hint of intrusiveness.
The resort has incredible views and easy access to its secluded, powdery white sand beach. The bay is teaming with wildlife and I encountered various types of brightly colored tropical fish by simply swimming out a few kicks from shore.
Four Seasons Seychelles is perfect for families or couples. The villas offer the utmost in privacy, while the main areas support a vibrant social scene with families playing together in the pool, surf lessons offered by the resort, or snorkelers using gear provided by the hotel.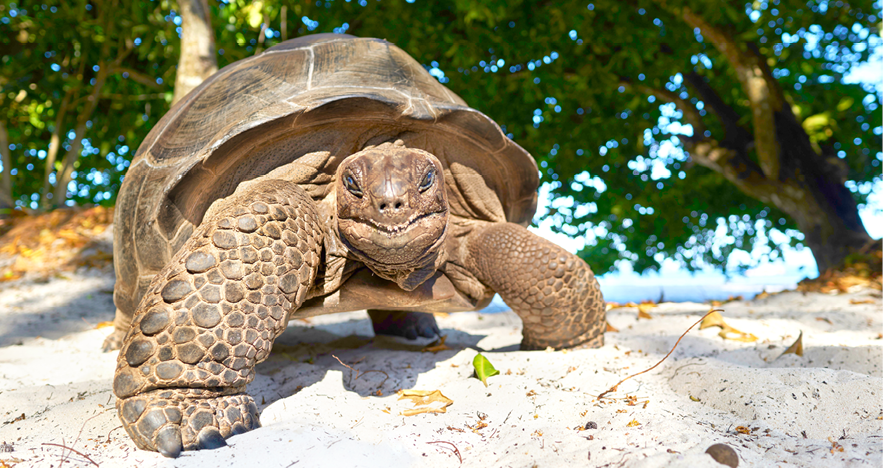 Admiring the giant tortoises is a real treat as well. The resort was nearly full during my stay yet didn't feel crowded at all. Designed with a village-style layout, the resort provides small buggies to get you around the resort, which you will be thankful for if staying in a villa far from the beach or restaurants.
Tip: An ocean view villa is worth the splurge. The views are not to be missed!
Overall, the Seychelles offer variety and adventure for almost any traveler and I highly recommend a visit here.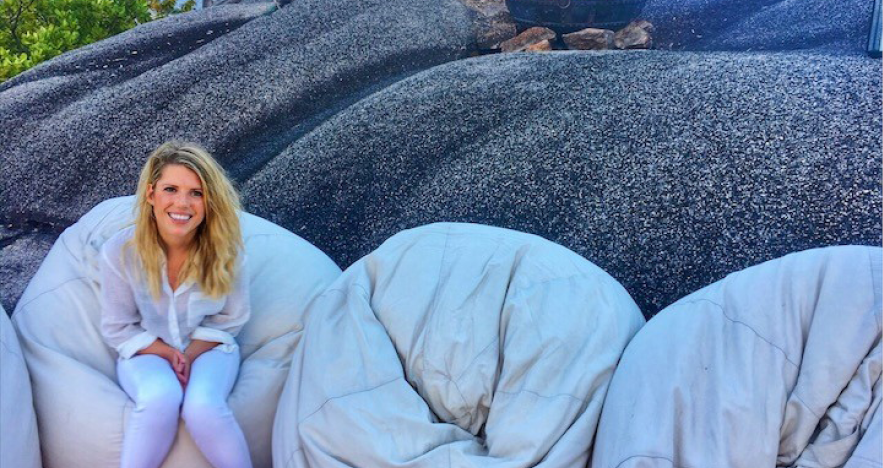 Thank you, Kristen Munch, on this wonderful insight into resorts in the Seychelles. Are you ready for a trip like this? Contact your FROSCH Travel Advisor for a Seychelles trip tailored specifically to your travel interests!