Recently, FROSCH Travel Consultant Gina Griffin (Dallas) had the opportunity to spend two weeks visiting Australia, and she graciously shared the highlights of her trip. Read about her favorite experiences and insider tips that she uses to craft amazing itineraries for her clients.
Sydney
Spending time in the beautiful, cosmopolitan city of Sydney is a 'must.' North American travelers will either start or finish in Sydney, so I build enough time in my clients' itineraries to see the sights like the iconic Sydney Opera House and Harbour Bridge.
For my personal trip, I arranged a backstage tour of the Opera House and I highly recommend this experience for anyone visiting Sydney.
I also always encourage my clients to do the Bridge Climb of the Harbour Bridge. Don't be afraid to try it. You don't need to be in great shape for it, and the views of Sydney are incredible.
Similarly, a Harbour lunch cruise is a highlight of any Sydney visit. It's a relaxing way to admire the stunning natural scenery as well as the beautiful homes (or vacation homes) of some of Australia's most famous residents like Nicole Kidman and Keith Urban. As we sailed by the many secluded bays and coves on our lunch cruise, our captain shared great stories about Sydney's rich history. These three experiences give a great overview of this wonderful city.
Tasmania
Visiting Tasmania and staying in Hobart, the capital, was a lovely surprise. Most Americans aren't familiar with this destination and will skip it. But I suggest fitting Tasmania into an Australian itinerary if possible. Hobart is beautiful, has a great food scene, and the people are charming. And learning about Tasmania's convict past is quite interesting.
The MONA is worth a visit when in Hobart and getting there is half the fun on the camouflaged catamaran! Once inside the museum, you will admire some of the most interesting exhibits and artwork in the world. This is truly a one-of-a-kind place.
Kangaroo Island
Known as 'the Galapagos of Australia,' Kangaroo Island is spectacular with its dramatic, jagged coastline and unspoiled, natural beauty. Over one-third of the island is designated as a National Park. We stayed at the Southern Ocean Lodge, an award-winning resort perched right on the edge of the cliffs.
The weather in the area is known to be unpredictable, which we experienced first-hand. As we set out to explore Admirals Arch, the skies suddenly turned dark and a storm unleashed torrential rains. We found refuge in a nearby cave and waited out the storm. As quickly as the rain came, the sunny skies reappeared. Although we were drenched, no one minded as the crazy weather added excitement to our adventure.
On our walk along the petrified tree formations, we saw koalas perched in trees and seals sunning themselves on rocks as the waves came crashing in. This is a dramatic place and a memorable part of my Australian trip.
Adelaide
My visit to Adelaide did not disappoint with its beautiful Victorian architecture. Our visit to the South Australian Museum was incredible and provided great insight into the Aboriginal culture.
FROSCH can arrange a tour of the museum with the most engaging guide who is a direct descendent of many of the Aborigines you see featured throughout the museum. Learning the history and culture through his eyes is a powerful experience.
During our stay in Adelaide, we enjoyed a wine and food pairing at the Lane Vineyard. The setting is picturesque and the pairing was incredible. I usually recommend this for clients as well.
Within a short drive of Adelaide is the Cleland Wildlife Park, which was a standout of my stay. The park itself is massive, and we had the opportunity to connect with animals in their natural setting. We saw Tasmanian devils, we fed kangaroos who ate right out of our hands, and we hugged Koalas, which is amazing.
The Cleland is self-funded and the money earned from the 'Hold a Koala' program is used for conservation, the general care of the animals, and the preservation of endangered wildlife. It's easy to see that the park's emphasis is on the well-being of the animals, rather than simply a means to turn a profit.
Lizard Island Resort & The Great Barrier Reef
No trip to Australia is complete without a visit to the Great Barrier Reef, and the Lizard Island Resort is THE place to stay. It is true barefoot luxury and perfect in every way. It's quaint with stunning bungalows along the white sand, the food and wine is exquisite, and the resort is literally on the reef. Simply walk a few steps into the ocean and you're snorkeling on the Great Barrier Reef!
Melbourne
Last, but not least, wandering the streets of quirky Melbourne and admiring the street art that the locals embrace is a delight. Walls are covered in art from the ground up.
Learning about Melbourne's history is fascinating too. The first people to settle came during the Gold Rush, and Melbourne was one of the wealthiest cities in the world at one time. The Victorian homes built during this time are lovely.
When in Melbourne, you'll notice that the coffee culture is huge. A different coffee house sits on every corner. As you can imagine, Starbucks doesn't do well here – only 3 of their stores remain open in this town.
Melbourne is a shopper's paradise with stores offering high-end international brands, local Australian designers, and great deals at outlets too. The passion for fashion is real in Melbourne.
Visiting Australia is an incredible experience with a variety of lodging, sightseeing, and natural beauty that will appeal to any traveler. This trip was an experience of a lifetime for me and I highly recommend that you add a trip to Oz to your personal travel plan.
Below are a few of my favorite tips for an Australian trip.
Gina's Insider Tips
• The regional airlines have strict weight limits and hefty charges for checked bags. Pack light, but ask your FROSCH Travel Consultant during the planning process for the most economical ways to handle your
bag charges.
• When you go to Sydney, stop in Tea Cosy for tea and scones. This is a fantastic brunch spot inside a former Victorian home in The Rocks neighborhood. The tea is served in tea pots with adorable hand knitted
and crocheted tea cosies to keep the tea warm. You do need to arrive early because they sell out of their baked goods and seating is limited.
• Also, in The Rocks neighborhood, buy gifts to take back home at The Rocks Market. This is a carefully curated market of local artisans only open on weekends with fantastic shopping finds. I bought a
beautiful watercolor from a husband and wife team and a gorgeous, handmade wool poncho there.
• If you opt to visit the MONA in Hobart, the Posh Pit tickets are worth the upgrade. This VIP ticket includes champagne, wine, coffee, and canapés. Sitting in the beautiful lounge of the Pit is a great way to
enjoy the ferry ride over to the MONA.
• If your trip includes a stay at the Lizard Island Resort, ask your FROSCH Travel Consultant to arrange a private tour of the research institute located onsite. You learn about the research conducted and the
conservation efforts as well as the world-renowned scientists who come back to the institute year after year.
• In Melbourne, FROSCH has the best contact for a guide to take you on a hidden bar tour. These hidden bars require secret passwords for entry. This is such a fun thing to do.
• Many of the best accommodations in Australia are smaller, so they will sell out. We recommend planning a trip to Australia at least 6 months prior to your preferred travel dates. Many of our clients call us
one year ahead to start the planning process.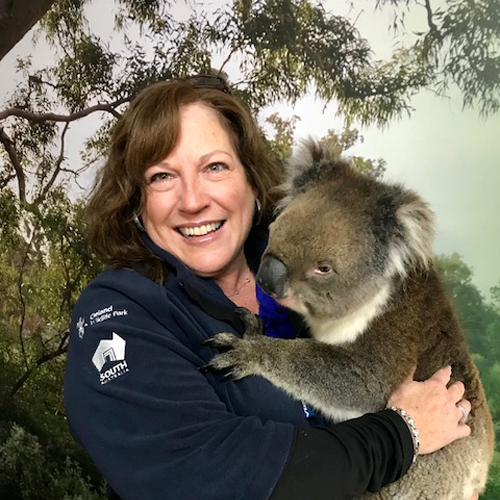 Thank you, Gina for an amazing review of Australia!
Are you ready for an Australian adventure of your own? Contact your FROSCH Travel Consultant to get started!
Image Licensing: Shutterstock.com