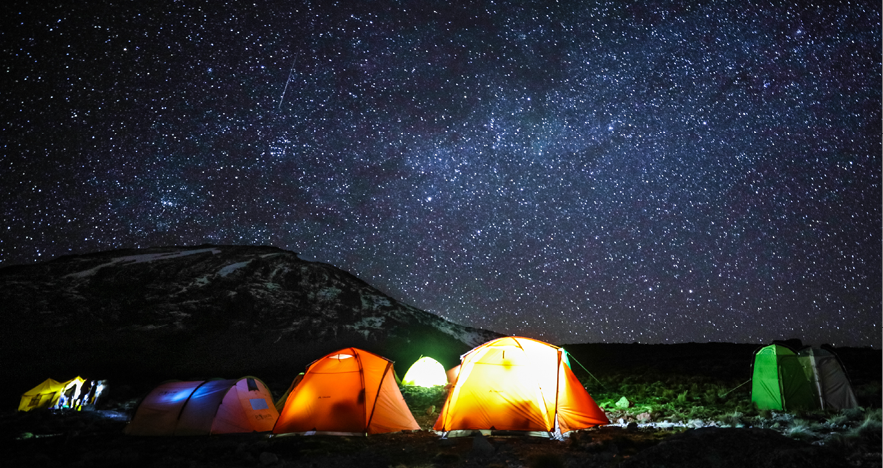 Climbing Mount Kilimanjaro is a lifelong dream for some but not a trip to book on a whim. Proper planning and preparation is paramount. FROSCH Travel Advisor, Gail Shinbaum recently had clients successfully reach the summit. Though Gail's clients had many, many favorite moments of the trip, the top three are highlighted by her clients below.
THE FOOD
We simply could not believe that the chef could prepare such delicious and varied menus on top of a mountain! Every night, a different soup was served as a starter. It was so good to begin dinner with a hot bowl of delicious soup! It truly was comfort food for the soul.
With each meal, we were astounded by the chef's very creative use of the seemingly-limiting food on hand. One night, he even created a vegetable quiche that we quickly devoured! How did he bake it? No clue! From high carbohydrate pastas and potatoes to protein rich casseroles, we were fed like royalty!
THE VARIED TERRAIN
We chose to trek the Northern Route, because it is the least trafficked route to the summit, plus it has the most variety of scenery. We trekked through the rain forest, an alpine desert, and even lunar-like, mountainous terrains. There were several times that I felt like a mountain goat!
It is too bad that pictures can't even come close to capturing the beauty of Kilimanjaro. It really does need to be experienced first-hand, because it will literally take your breath away!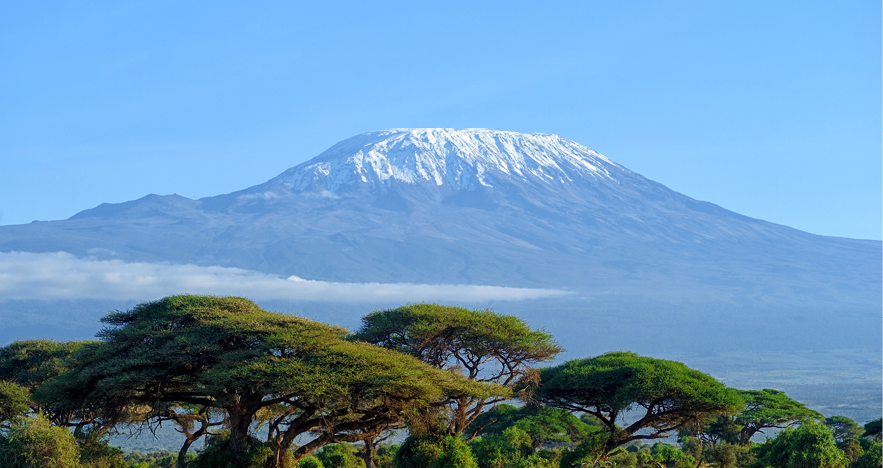 THE CREW
Our guide and assistant guide were absolutely incredible. Our guide told us that he has summited more than 350 times! Knowing that he has been that successful inspired so much trust in him. We literally did everything he told us to do. We knew that if we listened to him and followed his advice, we would make it to the top. And, we did!
His crew was extremely attentive to our needs. It was so much fun getting to know each of them and learning about their culture, their language, and their way of life. Summitting Kilimanjaro was one of the most amazing experiences of my life, but it would not have been nearly as special without the help, emotional support, and physical assistance of our guides and porters. They truly made all of the difference!
TIPS FROM GAIL'S CLIENTS
Pack a clean pair of socks for every day you are on the mountain. I packed medium weight smart wool socks. By the time we would finish hiking for the day, my socks would be wet from perspiration. As soon as we reached camp, I would go in my tent and put on a pair of clean and dry socks. It was the only way to keep my feet warm during the cold nights. If I didn't change my socks right away, I could not keep my feet warm.
Bring sunscreen! Never underestimate the power of the sun at higher altitudes. We forgot to pack sunscreen, and my neck and face got extremely sunburned. I won't be making that mistake again!
Ask your guide for a hot water bottle to place in your sleeping bag at night. We slept without one for the first two nights, and we were miserably cold. We told the guide that we were freezing cold at night in our sleeping bags, and he had one of the porters bring us a hot water bottle. It truly made all of the difference in the world! It didn't last the entire night, but it would last long enough for us to get warm enough to fall asleep for the night.
Be physically prepared. There is no way to train for altitude, but you can train and bulk up your muscles for the physical demand that summitting Kilimanjaro requires. It is a hard climb — both physically taxing and emotionally exhausting. You must prepare well in advance if you want to succeed.
During the entire journey, friends and family followed along on the climb since Gail's clients had a personal tracking device. Tracking the climb was not only fun for those back home but provided a sense of security knowing where the climbers were.
When working on intricate itineraries like these, clients get a true understanding as to why Gail only works with carefully vetted partners. By working with FROSCH Journeys Southern Africa, Gail's clients had a single point of contact throughout the entire trip. On this particular trip, her clients' originally scheduled flights were cancelled. Gail was able to get them booked on a different airline and update the arrival transfers while the clients drove to the airport.
Thank you to Gail and her clients as well as our partners at FROSCH Journeys Southern Africa for sharing insight into this incredible journey!