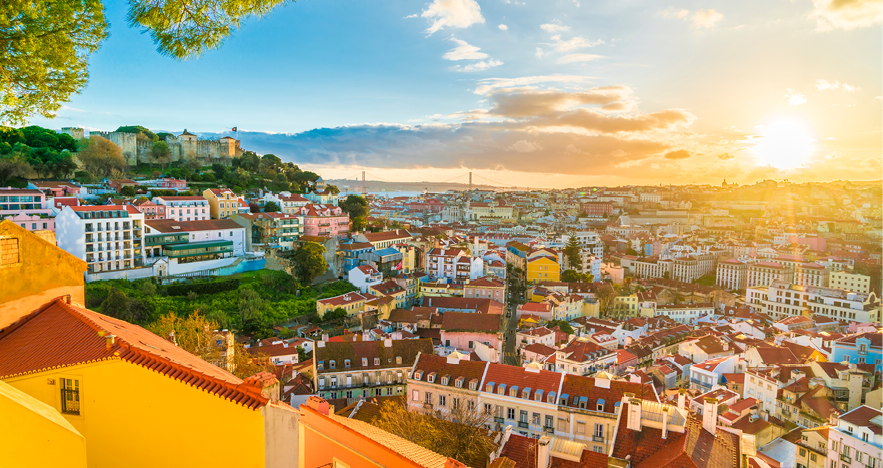 Always a popular cruise port, Lisbon fascinates with wonderful places to explore. You'll want to spend a few nights before or after your cruise to see these sights!
Belém
History lovers will adore Lisbon's fascinating past, which was ruled by many different civilizations – Phoenicians, Greeks, Carthaginians, Romans, and Moors. The 15th and 16th centuries marked the Golden Era of Portugal.
Admire the Tower of Belém and the Monument to Discoveries, both of which showcase Lisbon triumphs during this time period.
You'll love the gorgeous Jerónimos Monastery and its ornate architecture.
If you're ready for some coffee and a treat, stop in Pastéis de Belém, where the famous Pastel de Nata pastry has been served since 1837.
Chiado
This lively, cosmopolitan section of the city is a great place to people watch. Stroll the fashionable shops of the famous Rua Garrett to find unique Portuguese items to bring back home.
Book lovers will want to browse in Bertrand, the oldest book store in the world, and wine lovers will want to stop in By the Wine, to admire (or count) over 3,000 wine bottles that cover the ceiling.
St. George Castle & Alfama
Set on a hill high above the city, you'll delight in the wonderful views. Take time to meander the cobble-stoned streets in Alfama, the oldest quarter in Lisbon.
You'll notice the small village feel of this part of Lisbon. See Lisbon's cathedral (Sé), the oldest church in the city, which is close by.
This is also where you'll see the bright yellow historic trams. The 28 Tram has become quite the tourist attraction and will get crowded.
If time allows, you might want to pop into the Fado Museum to learn about the fascinating performers and this traditional Portuguese musical genre.
These are a simply few highlights of sights to see in Lisbon. Contact your FROSCH Travel Advisor for more ideas!