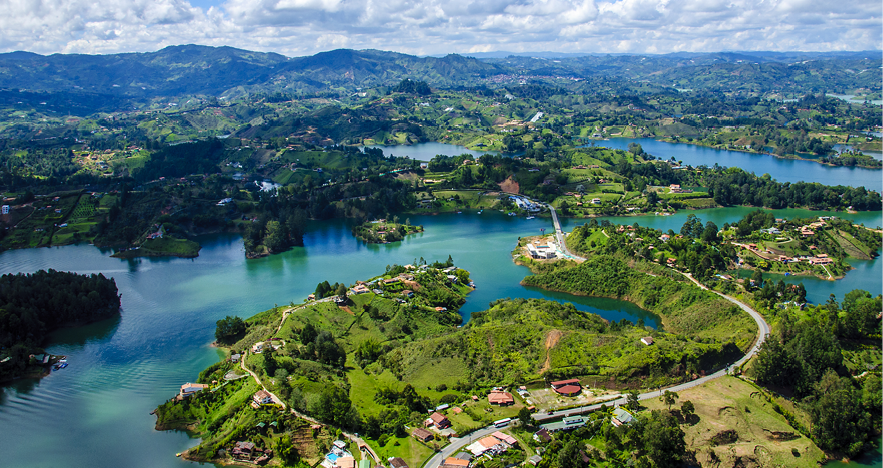 Colombia – Revival and Transformation
Colombia could be South America's best-kept travel secret. The enormous effort made by the Peace Agreement put an end to a conflict of more than 50 years which substantially isolated Colombia from tourism. Today, travelers are visiting Colombia in increasing numbers, returning unharmed, and raving about the country's beauty and its hospitable, friendly people. And no wonder! Colombia's mist-shrouded, snow-capped Andes Mountains; charming colonial cities; golden-sand beaches; and vast green stretches of Amazon Rainforest speak for themselves. Such diversity has earned Colombia the # 2 spot on the list of mega-biodiverse countries, right behind Brazil.
With this privileged legacy, Colombia has an enormous responsibility to ensure that the development of tourism takes place in a way that honors the country's natural heritage and contributes to its economic and social prosperity. Below we share with you examples of some unique experiences that you can take part in, while also contributing to the country's transformation.
BOGOTA
Weaving Peace – Walk through Bogotá's distant and not-so-distant past while visiting the historic district of La Candelaria, where you'll learn insider stories of its colonial history, civil war beginnings and current peace transformation. You can hear, first-hand, the voices of true peace weavers, leaders that have managed to transform their community's livelihood from coca plantation to cacao or coffee crops. Be sure to visit one of the coffee and cacao shops as well!
La Palma y El Tucán – About an hour and a half away from Bogota, you can visit an innovative, organic coffee hacienda that has revolutionized the coffee industry in Colombia. With a model that helps local growers produce quality and not quantity, La Palma y El Tucan have created an exotic variety of specialty coffees, placing emphasis on shared growth by bringing welfare to more than 150 coffee growing families in the region.
Sustainable Crops, Sustainable Table: Near the famous Guatavita Lagoon, where the renowned El Dorado legend began, you can meet Colombian nutritionist and sustainability expert Michelle Guerra, who formerly used to work at Whole Foods and decided to establish herself in Colombia's Andes Mountains growing sustainable crops that nourish the body and soul. Michelle's husband, Juan Vicente, has his own artisanal brewery that makes incredible organic quinoa-based beers. Both have helped to reforest the surrounding area, creating new water sources and developed a strong local economy through bartering local organic products.
MEDELLIN
Social Transformation Tour– Medellin's democratic architecture policy has rejuvenated the most depressed areas in the city. Several libraries have been built to revive forgotten neighborhood spaces, public cable cars and giant escalators now connect isolated districts with the heart of the city, and street art and hip hop have become seeds for change in marginalized neighborhoods. You'll quickly understand how Medellin shifted its course from murder capital of the world to being recognized as the social innovation capital of Latin America.
Gastronomy for Peace – Medellín has transformed into a thriving metropolis with a vibrant food scene. One of its outstanding restaurants is El Cielo, where Chef Juan Manuel Barrientos has implemented his vision of "peace in the kitchen." El Cielo was one of the pioneers in involving peace with gastronomy in Colombia. El Cielo Foundation provides culinary arts training to soldiers wounded by antipersonnel mines or in combat, former guerrillas, ex-paramilitaries, female heads of household, and indigenous people who have been displaced.
PROVIDENCIA
Providencia is a wonderful destination for people who are looking to have direct contact with the local culture while contributing directly to their livelihoods. The archipelago is geographically located closer to Nicaragua, historically tied to England, and politically part of Colombia. Here you'll find isolated beaches, unspoiled coral reefs and an alluring island flavor, with a 300-year-old English- Raizal culture. In order to preserve their jobs and the sustainability of the island, locals have fended off the big chain resorts by turning their homes into lodges. Only locals can buy property on the island, and as such, most of the hotels offered are comprised of "native inns," colorful villager houses and small lodges with a strong sense of community empowerment.
LOS LLANOS
Colombia's huge Eastern Plains, known as Los Llanos, is a savanna covered with swamp grasses. During the rainy season from May to October, parts of the Llanos can flood up to three feet, turning the woodlands and grassland into a temporary wetland comparable to the Pantanal of central South America. This area is a biodiverse corridor of Colombia where you'll find several species of deer, rabbit, giant anteaters, armadillos, tapirs, jaguars, and capybara. Tourists can enjoy day or night safaris and participate in the conservation initiatives led by organizations such as the WWF, USAID, Cunaguaro Foundation, and the Jaguar Foundation. Options include reforestation projects or the opportunity to monitor camera traps used to track jaguars, pumas, and ocelots.
GUAVIARE
Sandwiched between the plains of Los Llanos and the thick jungle of the Amazon, San Jose del Guaviare offers infinite opportunities for anyone looking to get off the beaten track and experience a true adventure. The biggest natural park in Colombia and one of the largest protected natural areas on earth, Chiribiquete is considered one of the most unexplored places on the planet and hosts indigenous tribes that have never had contact with western civilization, as well as some of the oldest rock formations on the Earth.
Right now, the government restricts access to the Chiribiquete Natural Park to monitor and control the influence of tourism to the area; however, one can take a plane flight above this magnificent reserve to see its magnitude and stunning aerial views.
What Makes FROSCH Journeys Colombia Different?
Our team firmly believes that travel can profoundly change communities and people in a positive way, if done responsibly. As such, in addition to organizing tailor-made tours with local experts, we also like to "walk the talk" by offering rewarding and meaningful experiences that connect our travelers to local communities, while leaving a positive impact. When travelling with us, clients will receive a refillable water bottle to use during their trip, as well as locally sourced and tasteful gifts that directly contribute back to the local communities.