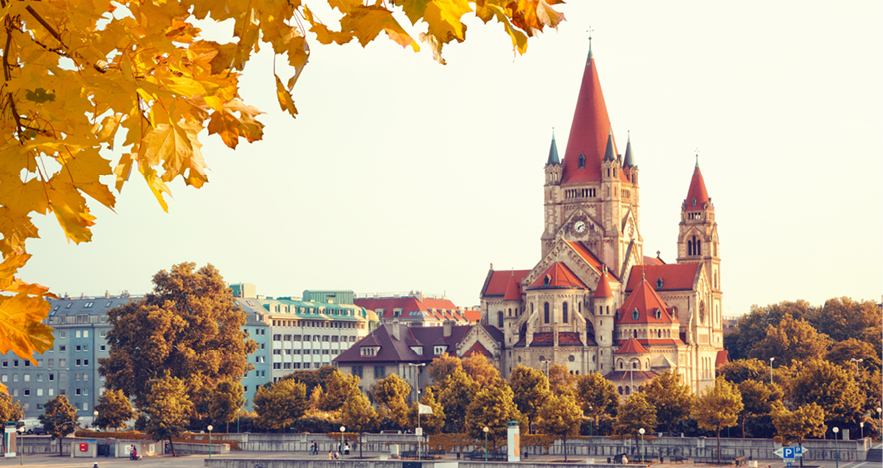 The imperial architecture, cultural sights, and cozy coffeehouses charm every visitor to Vienna. Before hopping on your Danube river cruise, make sure to spend a day or two exploring this wonderful city!
Music Mecca
Beethoven, Brahms, Haydn, Mozart, Schubert, Strauss, and many others have called Vienna home, so the "City of Music" is a fitting nickname. Stop in the Haus Der Musik for an interactive museum visit or go to Musikverein for an exceptional concert house experience.
You can also time your trip to coincide with one of the special outdoor festivals celebrating the joys of music.
Captivating Architecture
Marvel at the gothic architecture of St. Stephen's Cathedral or for stunning city views, climb the 343 steps of the South Tower.
Gain insight into the Habsburg monarchy with a visit to the Hofburg Palace, where the empire ruled for more than seven centuries. The Habsburgs former summer residence, Schrönbrunn Palace is also magnificent.
History and architecture buffs will simply adore a walking tour to learn more about the different styles showcased in Vienna.
Coffee Culture
Pop into a small café and order Schwarzer, Melange or maybe Kaffee verkehrt to experience a coffee house tradition like no other. Viennese coffeehouses serve as extended living rooms providing a welcome spot to relax after a long day of sightseeing.
And don't forget to try the Sacher Torte!
For an extended itinerary of Vienna, reach out to your FROSCH Travel Advisor!