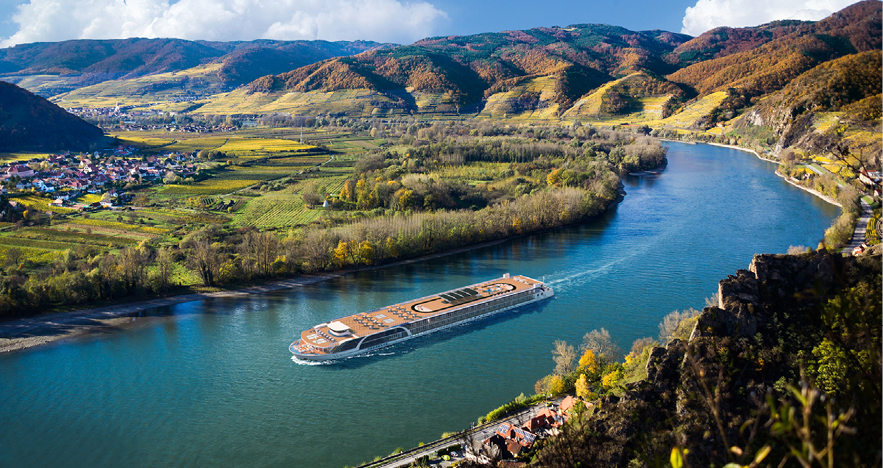 With ten river cruises sailed and counting, FROSCH Luxury Travel Advisor, Randy Norris, knows a thing or two about river cruising. And, his clients love it because he shares his first-hand knowledge to help them select the perfect ship and itinerary to match their interests.
Randy's recently back from sailing the brand-new AmaMagna from Budapest to Vilshofen. Read about his experiences as he shares highlights and tips from this extraordinary trip below.
The Incredible Ship
It's sometimes difficult to impress someone as well-traveled as I am, but the AMAMagna did just that. The décor is what you expect on an AmaWaterways ship – clean lines, calming color scheme, and an upscale, yet relaxed feel.

Twice as wide as a traditional river cruise vessel (72 ft in width compared to many at 38 ft.), the AMAMagna offers more public space variety, larger staterooms, and multiple dining venues to appeal to its guests.
Passenger space is the key, especially on a river ship that is limited due to the size of the locks they transit. I never felt it to be overcrowded, given it carries 196 guests at capacity; thus, allowing the ship to have an intimate feel that repeat AMA's discerning guests adore.
Also, the AMAMagna is one of the few ships that offers an elevator that goes all the way to the observation (top deck). This is important to know for travelers with limited mobility.
In the past, a drawback to river cruising had been the tiny rooms and cramped bathrooms. However, my suite was quite spacious at 355 square feet. I noticed the thoughtful touches in the design that added to an elegant but still relaxing room.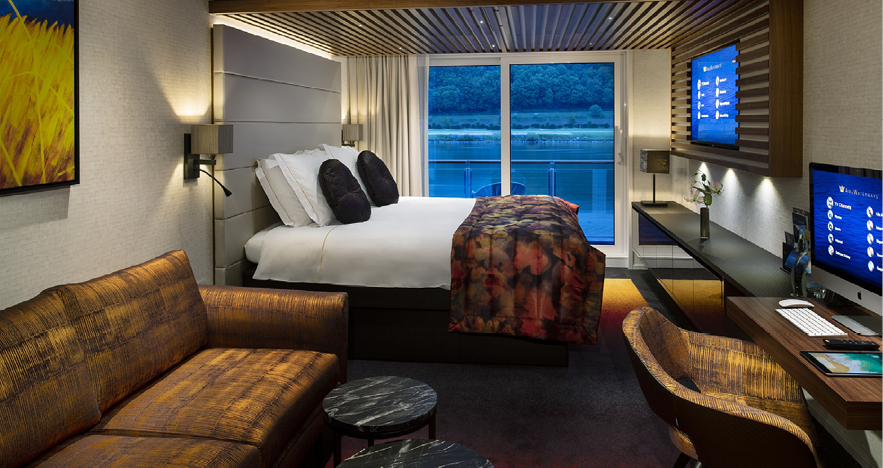 Additionally, the bathrooms are well-thought out, equipped with a large shower, double sinks, ample counter space and storage. The split style bathroom with a separate water closet is also a nice feature. After a long day of sightseeing, coming back to a comfortable stateroom with ample room for two people is a delight.
Excellent Active Fitness Programs and Excursions
AMAWaterways sets itself apart in health and wellness on the river with fitness choices both on board and in port. On the ship, Fitness Hosts lead guests in daily stretching, yoga, and Pilates classes or brisk walks around the track on the sun deck. It's not every day that you get to work out while sailing through picturesque scenery!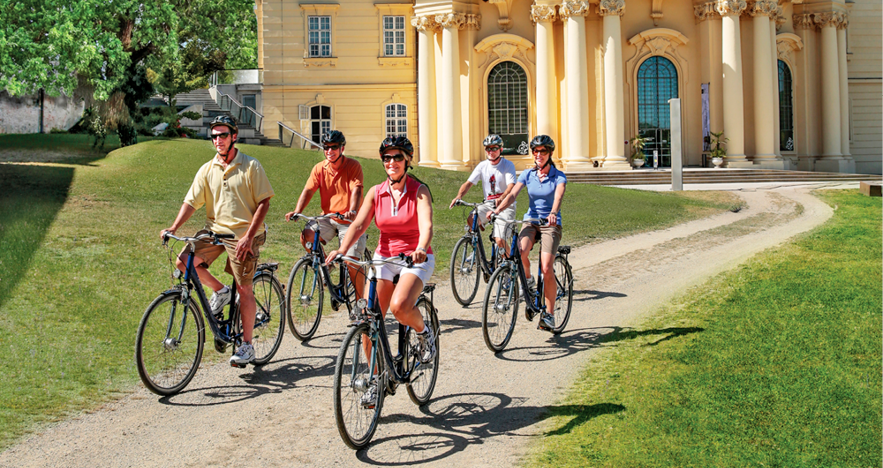 In port, travelers can choose guided hiking or bicycle tour excursions giving a great opportunity to exercise and sightsee at the same time. I'm always quick to inform my clients that the hikes and bicycle tours are truly active.
Expect a brisk pace and steep inclines for the hikes. Bicycle rides can easily be 20 or 30 miles. Guests choosing the active tours are in shape, and you need to be too for these excursions. Also, lunch tastes so much better after a brisk hike or bicycle ride!!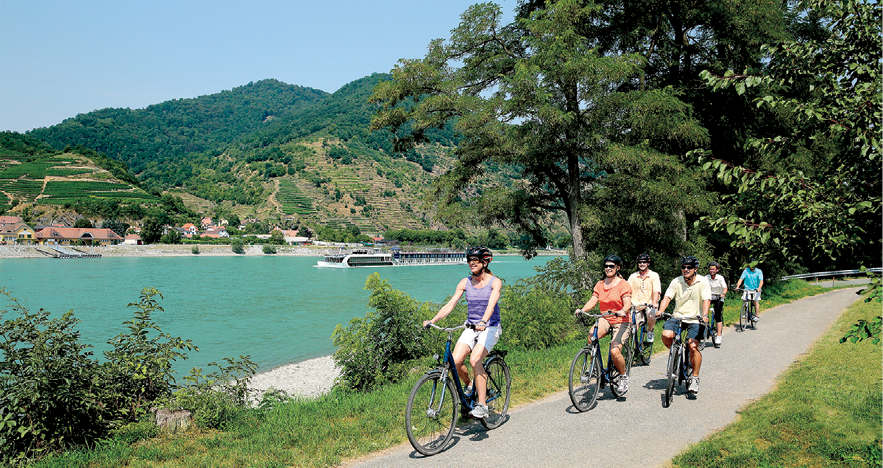 The active shore excursions were highlights of my trip, and I chose these over the slower paced activities in each port. Independent minded travelers can opt to borrow one of the 50 available bikes with helmets. You might not learn as much without a guide, but you still enjoy the beauty of your surroundings.
Continue the wellness experience back on the ship by scheduling a massage with one of the two massage therapists on board. I heard from multiple guests that the therapists were outstanding and gave a very thorough message "some of the best they had experienced on any line."
My observation and dinner discussion with many other guests suggested the excursions regardless of type were well received, the guides were informative and well versed in the region, offering an excellent port call experience.
Wonderful Food and Wine Selections
I found the food to be outstanding throughout the cruise in all four venues. As always, the main dining room featured delicious meals inspired by local specialties. The breakfast and lunch buffet were well appointed with a fabulous salad, soup, sandwich and dessert bar. Also, there were several items at each sitting that could be ordered from the menu and served promptly from the galley.
The Chef's Table was the nicest, most intimate and formal of the dinner restaurants. The chef prepared a seven-course meal with paired wines in a setting that entertained all foodies. Formal dress is not required; however, people dressed a bit more at this venue. You have the option of dining as a couple or as many as 10 together.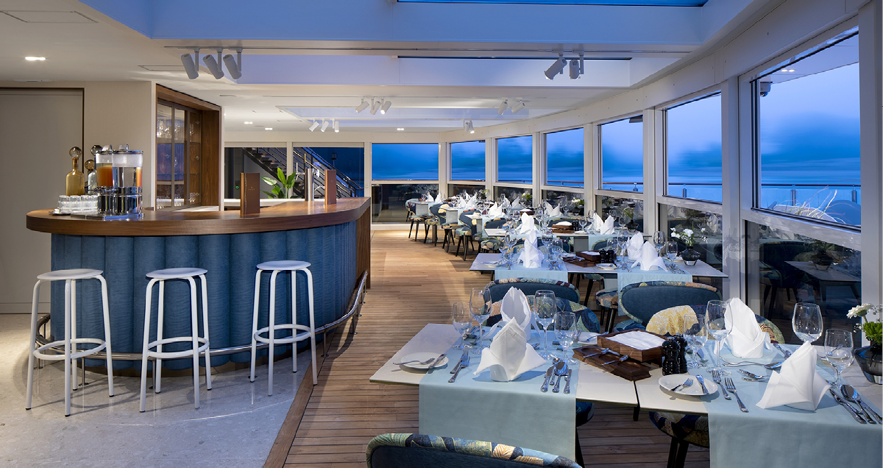 At the Al Fresco Restaurant, dine outside while sailing the magical Danube. Jimmy's, named after AMA Waterway's late Co-Owner and industry veteran is great for groups of friends with its friendly atmosphere. Meals are served family-style for 2 or up to 12 guests together.
Wine lovers should opt for one of the special wine cruises hosted by world-renowned wineries. In my case, Caymus was aboard sharing information (and wines) from the winery as well as local regional favorites. The special wine pairing dinner was fantastic as well as the multiple wine tastings offered throughout the cruise. Wine cruises prove to be quite insightful as guests learn insider information not only about the host winery but also about the regional wineries as well.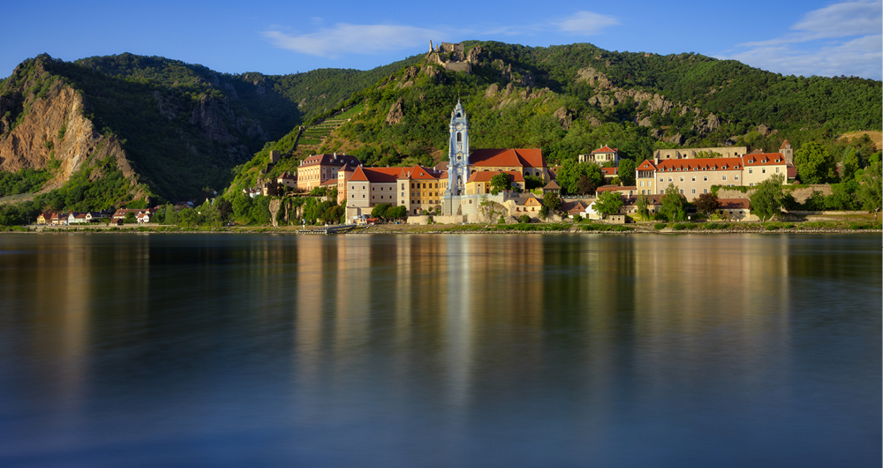 I will be the first to tell you that AMA Waterways did an outstanding job in organizing the cruise and took great care of all the guests on board. Consensus from the other passengers was that the company 'knocked it out of the park' with this new ship build. Don't hesitate about sailing the AMAMagna. This river cruise should be added to everyone's travel plans!
Thank you, Randy for your wonderful insight!
Randy's Tips
Upgrade to a Suite if Budget Allows
The suites are substantially larger, the bathrooms are much nicer, and the room feels more open than the entry level rooms. The standard rooms, known as 'swan view' rooms, are on the lowest deck and partially submerged under water. Your only window will be quite small with limited views. Your experience will be enhanced with a French, Full Balcony or Suite.
AmaWaterways is Wonderful for Active, Social Travelers
On my cruise, the lounge was full of people dancing until late in the evening, listening to the live music, and having a good time. This isn't always the case on every river cruise line. Sometimes, the cruise can feel quite sleepy after dinner.
Good Option for Those with Mobility Issues
Though I spent most of my days on the active excursions, travelers can select the gentle walker excursion for a slower paced way to see the sights. Also, the AmaMagna is one of the few ships that offers an elevator that goes all the way to the top deck. This is important to know for travelers with limited mobility.
| | |
| --- | --- |
| | |