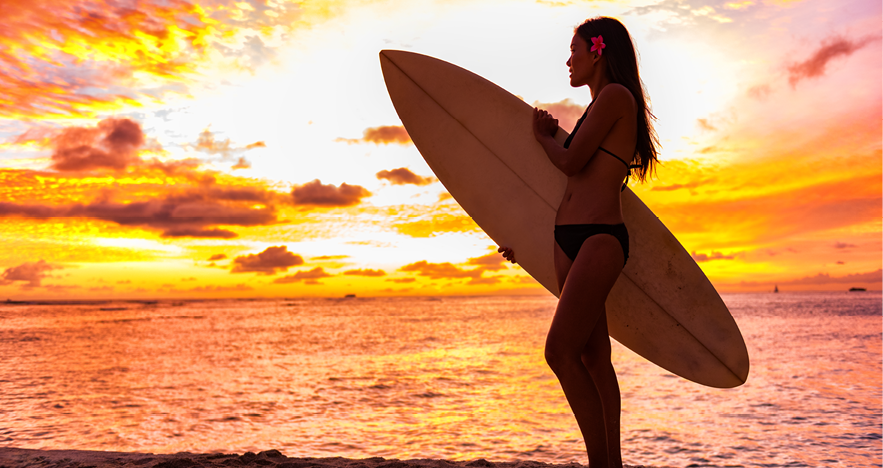 Of course, you could try to see Oahu in a day, but why rush around all stressed-out before your cruise? Spend a few days before the ship sets sail to see why this island captivates so many. We've rounded up a few activities to keep you busy!
TAKE A HIKE
Head to the iconic Diamond Head and hike to the summit for 360-degree breathtaking views. From the top, you'll be able to spot the Ko'olau Mountain Range, Kaneohe Bay, and Kailua. If you're looking for more adventure, make your way to the Koko Crater Trail where you'll walk the railway of 1,000 steps to reach the top.
SAIL, SURF OR, SEE SHARKS
For some fun on the water, sail on a catamaran during the day or for an evening dinner cruise. There's no better place to surf than Hawaii, even if you haven't tried it before. Ask your FROSCH Travel Advisor to arrange lessons for you!
Adrenaline junkies will want to head to the North Shore to shark dive. Swim in the deep blue ocean, encountering hammerheads, tiger sharks and sand sharks, as well as other majestic sea creatures. This experience will be something to tell all your friends about when you get home!
DINE IN STYLE
The ever-popular Giovanni's Shrimp Truck is a fun place to stop as is the iconic Rainbow Drive-In that's been featured on the Food Network's Diners, Drive-Ins, and Dives.
We do recommend splurging on some meals here too…and as you won't regret it! Top chefs take advantage of the locally sourced food and dazzle diners with innovative cuisine year after year. Alan Wong (Alan Wong's Restaurant) and Roy Yamaguchi (Roy's Waikiki) are two of the legends, but newcomers also continue to delight visitors.
REMEMBER PEARL HARBOR
Gain insight into WWII history and the Japanese attack on Pearl Harbor with a visit to the Arizona Memorial and the USS Missouri for a powerful and moving experience. A word of advice from our travel experts, there can be long lines, and it does get crowded, especially during the summer season.
With the numerous activities to enjoy all around Oahu, you might find yourself planning a return visit to this spectacular island!