After untold months of staying at home, I ventured out to Mexico City for a long weekend, not only to personally experience travel within Mexico during the pandemic, but also to realize a bucket list wish: a hot air balloon ride over the pyramids of Teotihuacan! The trip also wound up becoming a personal (and rather reinvigorating) wellness retreat.
Arriving into Mexico
Flying into Mexico City on AeroMexico was, thankfully, uneventful. The few people on the plane and in the airports all wore masks. It was truly more pleasant than usual. With the city's notorious traffic congestion all but absent, getting to the city center and then to the ancient ruins of Teotihuacan was a breeze.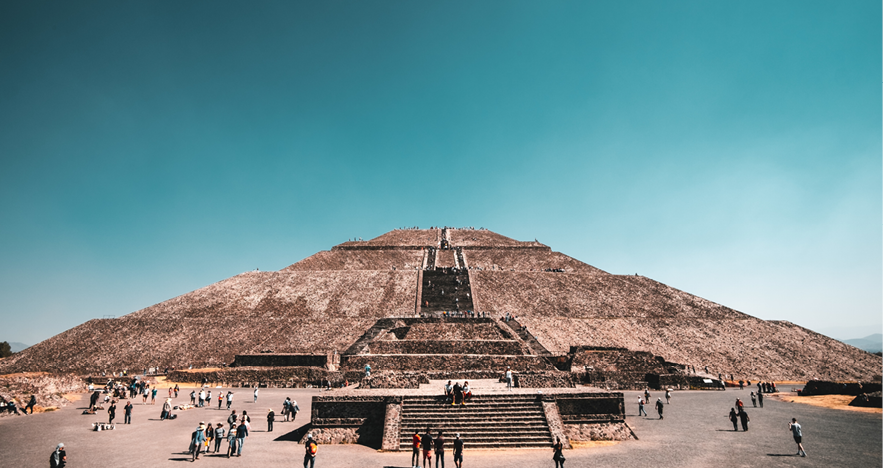 Pyramid of the Sun, Teotihuacan
Teotihuacan, a 45-minute drive from the normally chaotic center of Mexico City, is the most visited archaeological zone in Mexico and never fails to impress. A prominent regional capital dating from the 1st century BCE, Teotihuacan was once the largest city in the pre-Columbian Americas, yet was mysteriously abandoned many centuries before the foundation of the Aztec Empire, which dominated the area by 1519, when the Spanish arrived. Serious archeological excavation of the overgrown and crumbling site began in the early 20th century, with the restoration of the monumental Sun Pyramid in 1910 coinciding with the centennial of Mexican independence.
The massive stone temples and palace complexes, as well as the countless artifacts found there, affirm the ancient city's importance as a ceremonial center and hub of power. Today, a wide range of tourism services support the archaeological site, including first class accommodations, excellent restaurants, museums, cycling, and other adventures. All are currently operating with full COVID-19 protocols. Shops display objects carved by artisans from the native black obsidian stone, prized for its therapeutic properties as much as its beauty.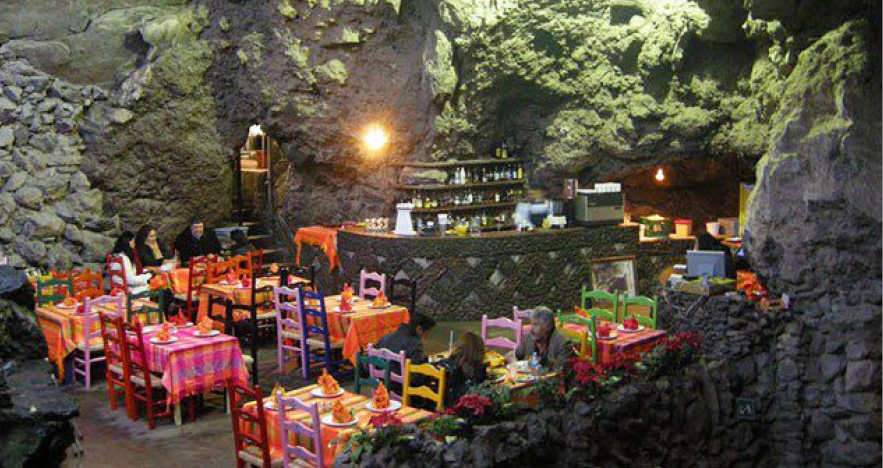 In one of the area's many volcanic caves and grottoes, where sacred native rituals once took place, La Gruta has served organic regional delicacies for over 100 years, famously hosting a luncheon for Queen Elizabeth II and known to be a favorite of Frida Kahlo's.
Another group of caverns functions as a holistic and very rustic spa, with spaces for yoga, treatments, and meditation. Smaller caves are ideal for the native Temazcal ritual sweat lodge, an herb-infused steam sauna heated by red-hot volcanic stones.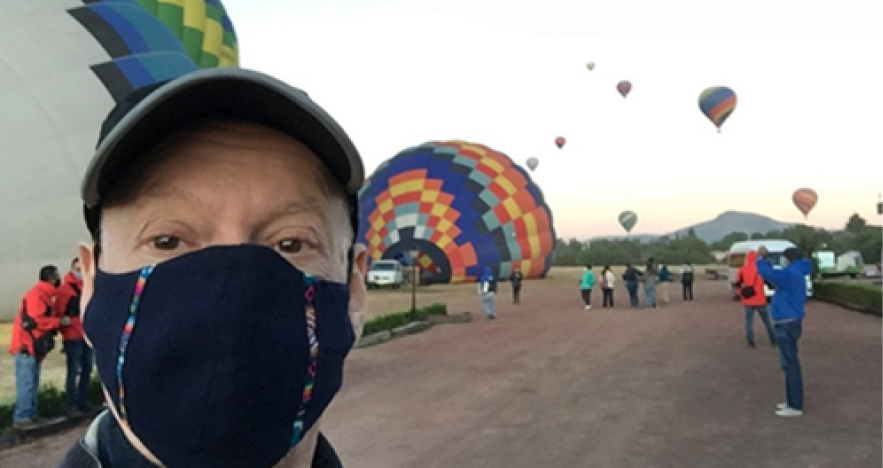 Hot Air Balloon Ride
The hot air balloon operation is simply impressive! More visitors than I expected showed up at dawn on a chilly morning to be thoroughly screened and fortified with coffee and pastries before boarding one of the 8-passenger wicker baskets attached to the huge colorful balloons. It was the first and only time that I've had to walk through a sterilizing tent as part of COVID-19 measures!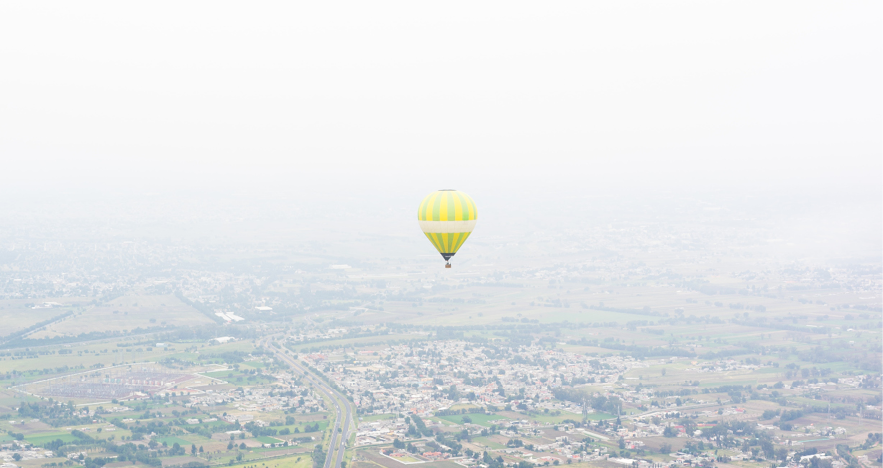 Gliding silently above the majestic Temple of the Sun in a hot air balloon was more captivating than I had imagined. The weather was ideal, and the ride so serene that I can hardly wait to do it again. The bird's eye view of the giant pyramid was unforgettably breathtaking.
Once we landed in a nearby field, the professional ground crew quicky folded up the balloon and hosted the customary après-flight champagne toast and full breakfast. My fellow passengers included the pilots of Lufthansa's first post-COVID-19 nonstop flight from Frankfurt.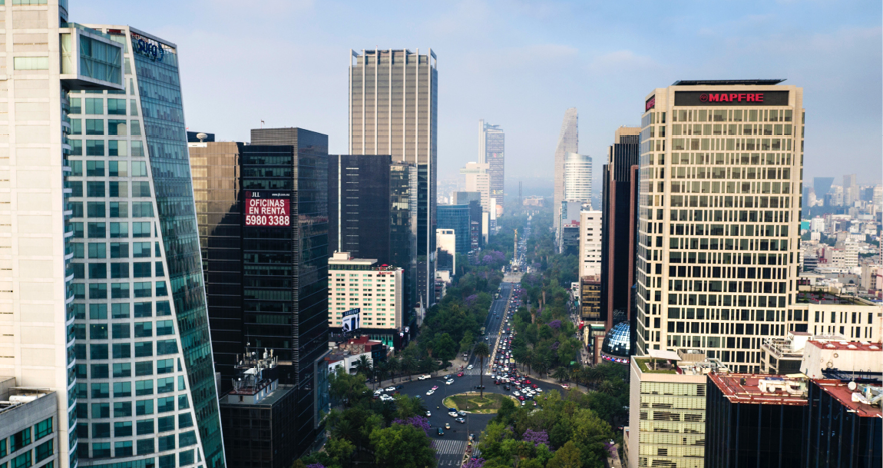 Back in Mexico City…
Back in the city, I checked into the dazzling new Sofitel Reforma, located on Mexico City's most emblematic boulevard, Paseo de la Reforma, a FROSCH & Signature Preferred Hotel.
Incorporating the façade of a historic mansion on the grand avenue, a sleek new tower soars over the US Embassy next door and pampers guests with every conceivable luxury. Stunning views, crowned by a penthouse swimming pool/spa, and glamorous roof terrace bar add to the property's allure.
To cap off my sensory escapade, I caught a dramatic new release in a practically private screening at a nearby multiplex, followed by a decadent Mexican fusion lunch at La Tecla, a classic in this foodie capital.
Finally, on the way to the airport I managed to squeeze in a massage and therapeutic bath in mineral-rich thermal waters at the world's most secret and unique pre-departure lounge, Baños Medicinales del Peñón, across the road from Terminal 1 at MEX.
The radioactive waters of the Peñón have been soothing bodies for millennia. Now, they are pumped from underground springs at 115°F into marble-lined plunge pools in private single or double cabins with lounging space and facilities. Massage and other therapies are optional and available at bargain prices.
Soaks of over 20 minutes are discouraged but drinking a glass of the transparent and taste-free water before and after soaking in it is highly recommended. A fitting finale to a restorative journey! Here's to health
and many happy returns!