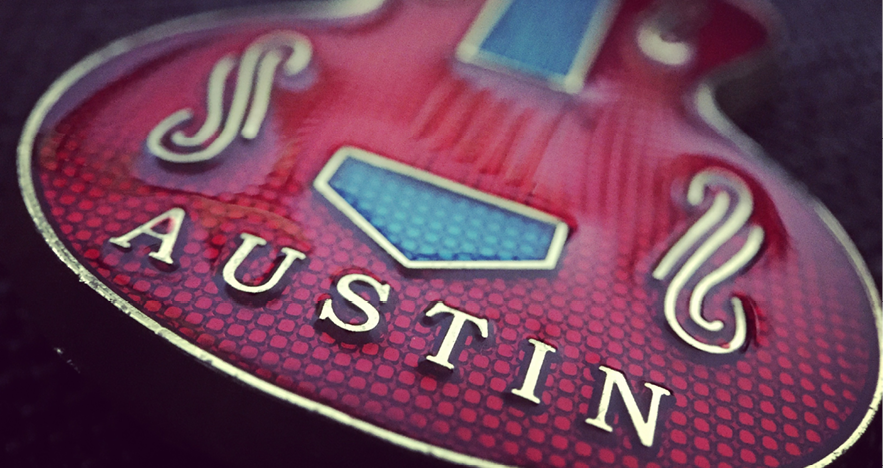 If you have any future travel plans that take you through Austin-Bergstrom International Airport (AUS), you may want to add some additional layover time to take in the full experience. With the mottos of "Keep Austin Weird" and "Keeping It Local," AUS warrants a few extra minutes of layover time for exploration and entertainment.
Built in 1999 and originally designed to serve 11 million travelers per year, Austin airport has grown to be a Texas powerhouse airport with an anticipated doubling of passenger growth by 2040. The two-terminal airport, covering 4,242 acres, is owned and operated by the City of Austin, Texas. It is the second-fastest growing, mid-sized airport in the United States. As an economic engine to Central Texas, it supplies over 74,000 direct and indirect jobs in the Central Texas region. With a local reflection and feel – Austin airport won best runner-up for "Best U.S. Airport" in Fodor's 2019 Travel Awards.
The airport fully embodies the local food, music, and art scene of Austin – filled with art galleries, live music, and local eats. We encourage you to SHOP, SAVOR, and GROOVE before your next flight.
MUST EAT AND DRINK
Though the pandemic has temporarily closed certain restaurants on-site, you can still get your local Austin foodie fix, with a variety of local attraction favorites right in the airport terminal.
Tacodeli – Austin's favorite new-school chain, serves up breakfast tacos, migas, frontera fundido chicken, and their famous doña sauce.
JO's Coffee – Perfect for your morning coffee jolt!
Salt Lick BBQ – The famous Hill Country staple serves delicious barbeque, sandwiches, and baked potatoes.
Amy's Ice Creams – A local Austin favorite and home of the world-famous Mexican Vanilla Ice Cream.
Earl Campbell's Taco Truck – Austin is known for food trucks and this one is no exception.
Food Truck Court in the South Terminal – An ode to the city of Austin, with alfresco on-site food trucks with outdoor dining areas.
Second Bar + Kitchen and Haymaker – Locally crafted beers and libations. Sample local beers from all around the Austin and Central Texas areas.
MUST SHOP
Fifth & Congress – Shop from a wide selection of high-quality luggage, handbags, sunglasses, watches, jewelry, and more; including a selection from local Austin and Texas artisans and designers.
Tyler's Austin Warehouse – Perfect for airport souvenirs, with local brands like Yeti and Austin-themed clothing.
MUST SEE & DO
Local Music – Known as "The Live Music Capital of the World®," Austin is filled with venues and musicians. And the airport is no exception. From the minute you step into the terminal, you can catch local musicians at one of the live music venues (Monday – Friday). Even during COVID, it has continued to maintain local artist performances within the terminal (wearing masks). Live music can be found at Saxon Pub / Asleep at the Wheel main stage and the 24 Diner. This is not your typical airport music. The level of talent bursting from the Austin airport is off the charts! Check out this Live Music Compilation (https://youtu.be/DU9J1RYujyk) or download the "Austin Airport Playlist of Featured Artists" on Spotify before your next flight (https://open.spotify.com/playlist/3vXGrNZKKa3L3fwvoujuqa?si=kYoUAcDvQL2OhUexeXnerA).
Art Installations – Find award-winning artwork and programs within their terminal walls. Walk along the two terminals and explore numerous galleries and art installations that feature artists from around the world and the Austin community. Text "Austin" to 56512 for Airport Art, Music, & More.
COVID RESPONSE
In response to the pandemic, the AUS Promise commits to putting people first and providing a safe and enjoyable experience for all employees, customers, and partners. During the entirety of the global pandemic, there was a significant passenger decline, however, the AUS airport never closed. "The one positive of COVID – it bought us some time to catch up on growth," said Jacqueline Yaft, CEO of Austin-Bergstrom Airport, on the GBTA Austin Chapter April Webinar. "It allows us to re-strategize and rebuild." Yaft says that "We feed off the city [of Austin] economy – if the city is strong, we will be strong." Passenger recovery continues to remain positive, as the city of Austin's economic recovery has been looking good. In fact, before the pandemic hit, AUS was right on the cusp of moving from classification of a medium to large hub.
The airport has reshaped services to better serve travelers during the pandemic. The airport continues to follow local/state and health orders. The federal government order of wearing face coverings for those age 2+ is mandated on airport grounds. Face shields are permitted in addition to a mask, but not without one. The airport also continues to promote keeping a safe distance between yourself and other passengers and good hygiene practices via signage and overhead PA announcements.
In the airport, numerous safeguards have been put in place to support these efforts: Masks to be worn by all employees; Plexiglass at TSA checkpoints, counters, and shops; Hand sanitizers throughout the terminals and exit/entry points; Ticketless mobile boarding passes are encouraged; Physical distancing signs and notices; Enhanced cleaning procedures; and Installation of robust air ventilation and filtering systems in HVAC systems to reduce virus transmission.
Some exciting service updates at the Austin airport for 2021 include: New routes and destinations in place (Honolulu, HI, Boise, ID Aspen, CO, Fayetteville, AR, Bozeman, MT); New carrier – Hawaiian Airlines (with nonstop to Honolulu 3x/week starting in May); Allegiant Airlines hosting a crew base in Austin; and more international destinations coming.