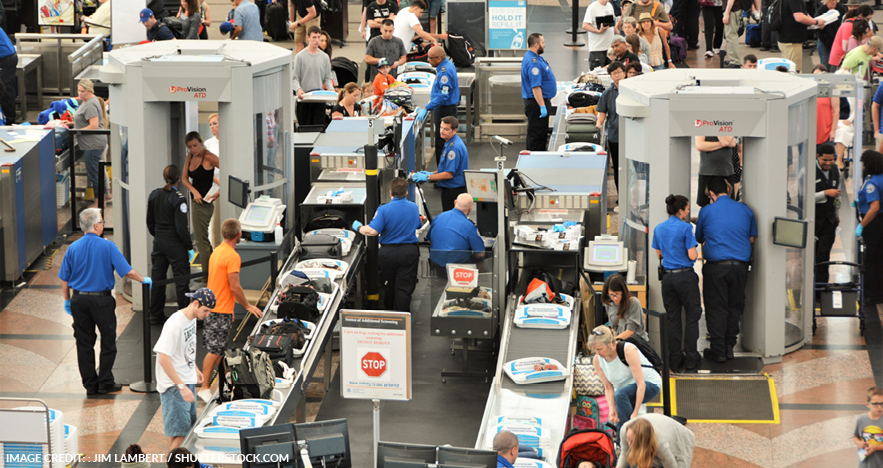 "What goes around, comes around." No, we don't mean what you mumbled to yourself when TSA took that $15 bottle of sunscreen from your carry-on last year. This month's TSA Round-Up is nothing but positive!  
Across the country, officers of the Transportation Security Administration (TSA) have been a big part of the "comes around" portion of that famous catchphrase. This is for good reason, as many may recall the hardships TSA officers endured during the partial federal government shutdown in 2018 and 2019. TSA officers were forced to work without pay! Now that their airport colleagues are in a similar situation due to the COVID-19 pandemic, TSA officers are stepping up to give back.  
Below is a small selection of goodwill gestures that TSA officers at airports around the United States have extended to their friends in other areas of airport operations, who are now forced into furloughs or reduced to working less hours.   
Denver International Airport 
TSA officers hosted a food pantry on April 30 in support of the airline and airport operations employees they work alongside daily.  
Green Bay-Austin Straubel International Airport 
TSA officers pooled their money to buy pizza and dessert for airline and car rental employees. They even offered free delivery!  
 Newark Liberty International Airport  
The folks at Newark went in a completely different direction than some of their colleagues at other airports.  TSA officers made 200 face masks using socks they purchased and donated. Each mask was individual wrapped in a plastic zippered bag and all 200 masks were donated to local homeless shelters.  
Portland (OR) International Airport 
TSA employees made almost 300 pre-packaged lunches (with some help from US Customs & Border Protection and the FAA!) to donate to airport workers.   
Reagan Washington National Airport  
A free food and toiletries pantry, open for a few hours each day and stocked and manned by TSA employees, was opened on April 24 to provide for airport workers who were laid off or had their hours reduced due to the COVID-19 pandemic.  
Washington Dulles International Airport 
TSA offices donated canned good, toiletries, and even toys when opening a free pantry for airport workers in need. The airport itself even donated the space!   
We don't say it enough, and now more than ever, thank you TSA!!!