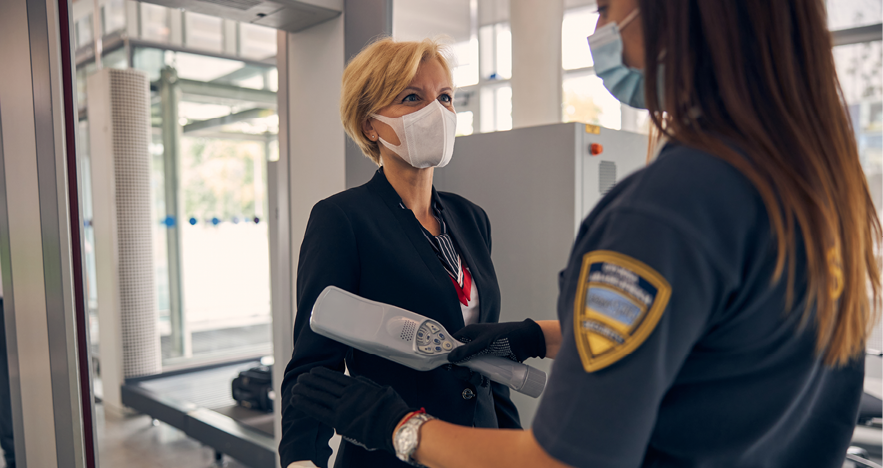 As vaccinations continue in full swing across the United States and as the Centers for Disease Control & Prevention (CDC) continues to modify and relax its pandemic-related guidance, the Transportation Security Administration (TSA) has been hard at work both keeping up with changing policies and procedures and making sure passengers are doing all they can to ensure a happy and healthy (and busy!) summer travel season.
Masks Will Be a Mainstay This Summer
The Transportation Security Administration (TSA), in continued consultation with the CDC, has extended the federal mandate requiring travelers older than two years of age to wear a mask in airports, on commercial flights and aboard public transportation through September 13, 2021.
While this may come as a disappointment to some, the CDC also recently announced that fully vaccinated Americans can safely travel within the United States, marking a great step forward on the path to returning to normalcy.
Packing for a Clean & Healthy Trip
Viruses, especially one in particular, have stolen the spotlight recently but many travelers have been packing goods to sanitize surfaces and kill germs for years. Regardless of what you're trying to avoid, here are some tips for making sure your disinfectants, medicines and sanitizers don't accidentally become the property of the TSA!
Disinfectants
These are mainly sold in spray form and a small, 3.4-ounce bottle or can is allowed in carry-on luggage. Need the Sam's Club-sized aerosol can? Pack it in your checked bag.
Medicine
Any medication, be it in pill or liquid form, can be brought into the aircraft cabin via your carry-on luggage, but it must be declared and separated during the TSA scanning process. Before your luggage goes through the scanning technology, let a TSA officer know that you are declaring medication (even over the counter remedies like cough syrup or antacid) and separate them from the rest of your belongings.
Sanitizing Wipes & Hand Sanitizer
Any quantity of wet wipes and baby wipes is allowed in your carry-on. Hand sanitizer is also allowed and as a reminder, TSA has temporarily modified the 3.4-ounce rule to allow passengers to bring one bottle of hand sanitizer, up to 12 ounces, onboard. This policy is in effect until further notice.
If you have any questions regarding what can and can't be packed in your carry-on, reach out to the AskTSA Customer Care team. You can send them a message on Twitter or Facebook, and they will respond with all the information you need. If you'd rather call, they can be reached at (866) 289-9673.
Another Month of More Passengers!
The Transportation Security Administration (TSA) continues to report daily passenger counts at much higher levels than 2020 but still lagging behind corresponding numbers from 2019.
As an example, on May 6, TSA screened 1.64 million passengers nationwide compared to just 191,000 passengers on the same day in 2020. Airport screenings on May 6, 2019, numbered over 2.5 million.
The upward trend in travel confidence is attributed to the COVID-19 vaccine rollout and the responsible re-opening of summer vacation destinations.