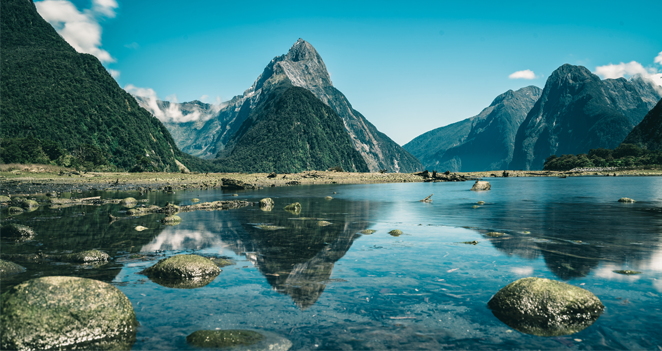 FROSCH Travel Consultant Gina Griffin (Dallas) knows her way around New Zealand and regularly crafts fantastic itineraries to this remarkable country. Gina shares her expertise and how itineraries come together by walking us through a few highlights of her recent trip to paradise (a.k.a. New Zealand).
Why New Zealand?
• Stunning Scenery & Wildlife
After her first visit, Gina now describes New Zealand as 'Heaven on Earth'. Kayak fjords, helicopter to the top of a glacier, spot wild-eyed penguins, dolphins or kiwis, and hike along clifftops down to sandy beaches. During your entire visit, you will be surrounded by natural beauty and might return home questioning your own cement covered surroundings.
• Incredible Lodging
New Zealand lodging is an experience. If you haven't cared about where you've stayed in the past, you'll change your mind after a visit to one of New Zealand's luxury lodges. Gina tells her clients that they will find it hard to believe some of these places exist when they arrive for their stay.
• Endless Adventures
Thrill-seekers will love all the active possibilities. Zip through treetops, luge down a mountain, ride the Shot-over Jet or catapult yourself off a bridge.
Golfers won't want to miss world-class courses nestled amid beautiful landscapes. New Zealand is home to several of the finest golf courses in the world.
And fisherman flock to New Zealand for the best trout fishing in the world. Are you interested in heli-fishing? Gina has arranged this for clients, so ask your FROSCH Travel Consultant to set this up for you too!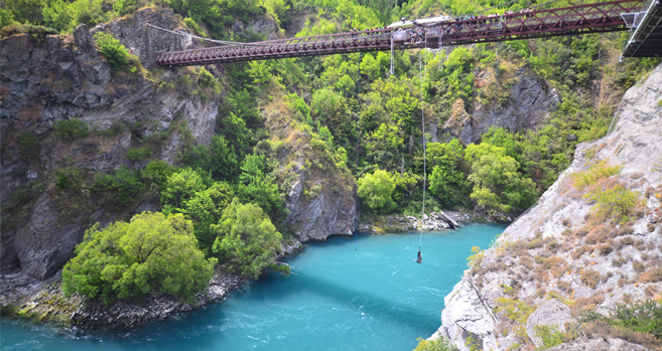 Luxury Lodges
When clients first contact Gina for a New Zealand trip, her first course of action is to check the lodging availability. The most sought-after lodges are small and in high demand. Availability is naturally tight. She arranges itineraries based on her client's interests, but the lodges determine the itinerary flow.
Gina shares a few of her favorite places to stay in New Zealand below. Take a peek!
• The Lodge at Kauri Cliffs
Located at the northern tip of the North Island, the Lodge at Kauri Cliffs overlooks the stunning Bay of Islands. The lodge's elegant, yet relaxed vibe is a wonderful home away from home to explore this part of the country.
Golfers love the world-renowned course set right along the cliffs with picturesque sea views. Families adore the three private beaches and activities to choose like quad biking, fishing, guided heritage tours, and picnics. And everyone enjoys the delicious farm-to-table cuisine offered at the lodge.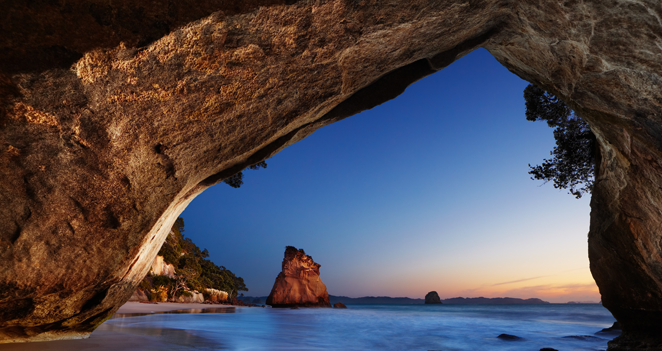 • The Farm at Cape Kidnappers
If you're interested in a stay at a working sheep and cattle farm, then the Farm at Cape Kidnappers is where you want to be.
Bring your golf clubs and ask your FROSCH Travel Consultant to pre-arrange a tee time for you as this is another incredible spot for golf.
The Kiwi Discovery Walk is a 'must do' for an experience you can find nowhere else on earth. The walk is exclusive to guests of Cape Kidnappers and is your chance to see these rare, endangered birds in their own habitat. During Gina's visit, her small group of six assisted the sanctuary guide in monitoring and weighing kiwi chicks. This activity is seasonal so work with your FROSCH Travel Consultant to arrange.
Time your trip right, and you will delight in admiring the colony of Gannets that return to Cape Kidnappers year after year. Marvel at the unusual marking of these sea birds, see them nesting in rows, and possibly witness hatchlings learning to fly. A guided tour by Can-Am (an all-terrain vehicle) is a fantastic way to watch the Gannets.
• Huka Lodge
Often touted as one of the best lodges in the world, Huka Lodge does not disappoint. Gina selects Huka Lodge for her anglers based on the phenomenal trout fishing in the area, but all guests appreciate the amenities of this world-class resort.
Once a simple fishing lodge in the 20s, Huka Lodge is now a welcome retreat for the most discerning traveler. Along with fishing, guests hike, horseback ride or experience the Hawke's Bay Wine Trail by helicopter. Of course, your FROSCH Travel Consultant can leave some free time in your itinerary for a day of leisure to take in the beauty of the Waikato River.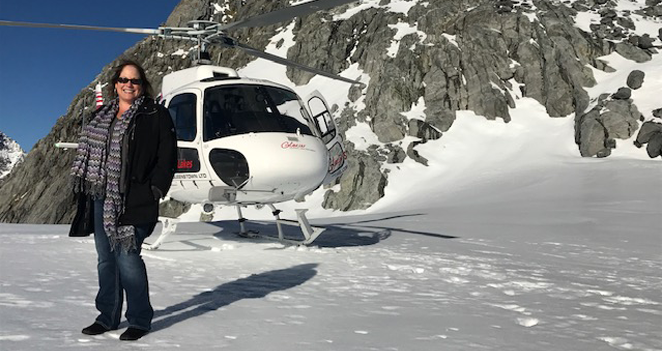 • Stone Fly Lodge
For the best fly fishing experience, look no further than Stonefly Lodge. Set on the Moteuka River, the Stone Fly Lodge offers travelers breathtaking views, superb cuisine, and some of the best fishing in the world.
But with only four guestrooms, the lodge is difficult to reserve. Gina recently had two couples interested in staying here. By working with FROSCH Journeys South Pacific, our local team in New Zealand, she was able to delight her clients by reserving two rooms at this world-renowned resort.
• The Marlborough Lodge
Wine lovers, ask your FROSCH Travel Consultant to arrange a stay at the Marlborough Lodge located in the heart of the Marlborough wine region. Explore the beautiful vineyards on the estate, indulge in superb cuisine, and relax in one of only ten suites on property. For a special treat, FROSCH can arrange a private tasting and food pairing, which is well worth it.
During Gina's stay at Marlborough Lodge, she visited the Omaka Aviation Heritage Center and she encourages her clients to do the same. This one-of-a-kind museum offers the chance to view rare memorabilia, aircraft, and artifacts from WWI. As you walk through the intricate and captivating displays, you feel like you're in the middle of a movie set. Through these theatrical recreations, you learn untold and forgotten stories from this period that will move you and stay entrenched in your mind for some time.
These are only a few of the phenomenal components that Gina reserves for her New Zealand clients and there are many more offering the most delightful experiences you can imagine. As you can see, New Zealand lodges are a true highlight when visiting this destination.
Gina has provided a few more tips below about New Zealand that she shares with her clients. Thank you for sharing your New Zealand experience, Gina!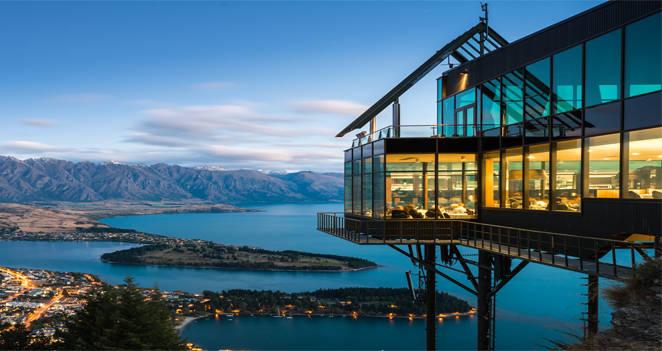 Gina's Tips
• I often arrange helicopter and small plane transportation to get my clients around New Zealand. Because of the luggage weight restrictions, I tell my clients to pack one small bag and one larger bag. My clients take their smaller bag with them on the helicopter or small plane. I then arrange to have their larger suitcases transported by road to their next destination.
• Some clients hesitate to travel to New Zealand because of the long flight, it's not that bad, especially if flying on the overnight flight. You have a few drinks with dinner, watch a few movies, and nod off to sleep. When you wake up, you're in New Zealand and ready for your adventure.
• To see Milford Sound, I have a few options to base my clients from, depending on the rest of their itinerary. But I make sure the itinerary is fluid. If visibility is too poor for the Milford Sound tour, I work with our local contacts to arrange the tour for a different day and reschedule a different experience in its place. While I handle the details with our local team, my clients relax and enjoy their trip.
• Go see the Hobbiton Movie Set even if you're not a Lord of the Rings fan. You'll be blown away even if you've never seen one movie in the trilogy.
• I elevate my clients' trips to New Zealand with the help of our local team, FROSCH Journeys South Pacific. When my clients arrive to New Zealand they are met upon arrival by a FROSCH Journeys representative and from there, I'm in daily contact with our team, ensuring all details are handled. This is especially important when I have clients wanting to see Milford Sound.
Are you ready for a trip to New Zealand? Contact your FROSCH Travel Consultant to get started!
When Gina arranges trips to New Zealand, she works hand in hand with FROSCH Journeys South Pacific, our local, in-destination team. By doing so, she and all FROSCH Travel Consultants offer clients once-in-a-lifetime vacation experiences with access to the finest tour guides, best rates, and a dedicated local team to assist with any issues that might arise.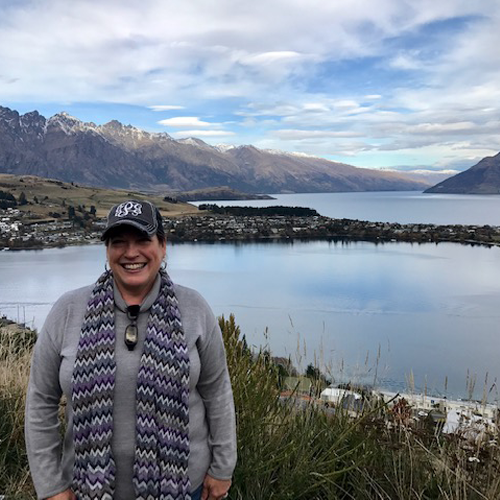 Thank you for the fantastic insight into New Zealand, Gina!