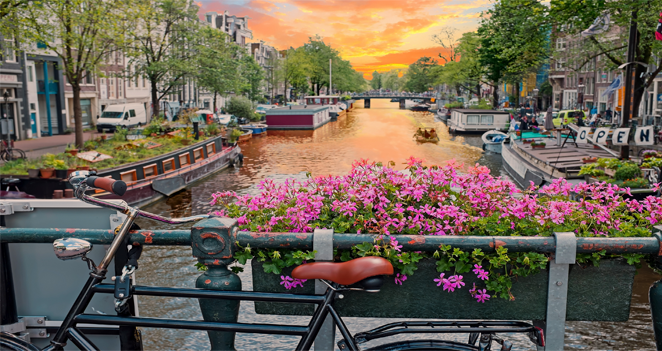 If you're sailing on the Rhine, you will likely start or end your trip in Amsterdam, best known for its tolerant coffee shops, infamous red-light district, and kitschy images of the Dutch in wooden clogs. But, Amsterdam has more to offer, so go beyond these typical clichés and find a more exciting Amsterdam adventure.
Pedal Power Around Town
Did you know 15,000 bicycles are fished out of Amsterdam canals each year? Some claim bicycles outnumber residents, so this number might not sound so surprising. Whatever the case, join the locals and get yourself on a bicycle during your visit to Amsterdam.
Museum Hop
A visit to the Anne Frank House is a must, as well as stops at Rijksmuseum and the Van Gogh Museum. Modern Art lovers will not want to miss Stedelijk. With 75 museums in Amsterdam, you will be hard-pressed to not find one you'd like to visit.
Wander a Quaint Neighborhood
After your visit to the Anne Frank house, head to the Jordaan, a district known for picturesque homes, upscale restaurants, and trendy shops. Keep your camera close; as you walk along the bridges, you'll see wonderful photo-ops of the canals in this charming neighborhood.
Shop Local
The Maker Store is your one-stop shop to find unique buys made locally by artisans in Amsterdam and the surrounding areas. You can find hand-made jewelry, clothing, books, and even locally sourced beers and whiskey. Also, meander through flea markets for fun finds, stop in one of several specialty cheese stores for fine artisan cheeses, and seek out the chocolatiers for wonderful sweets to take back home.
Day Trip to Haarlem
This picturesque town is a short train ride from Amsterdam and worth a visit if you have the time. Start with a stop at Grote Markt (Big Market), the central square which remains the central hub of the town. Visit the Grote Kerk, famous for its Müller Organ, admire the view from the De Adriann windmill or stop in Patronaat to listen to live music. Haarlem's sites are relatively close together which makes this a wonderful choice for a day trip from Amsterdam.
As you can see, Amsterdam has plenty to offer. Before you hop on your river cruise, spend a day or two to get to know Amsterdam and the surrounding area. You'll be glad you did!
BONUS TIPS FOR YOUR NEXT VISIT TO AMSTERDAM:
• A Visit to the Anne Frank House is extremely popular. We recommend purchasing tickets in advance.
• Tulip season runs from the end of March through May, with the best viewing mid-April. Flower lovers will want to time their trip around the opening of the Keukenhof, known as the Garden of Europe.
• Cyclists have the right of way, so stay out of their path. If your home town doesn't have many cyclists, take special care to watch for the bicycles or you will get hit.
Image Licensing: Shutterstock.com