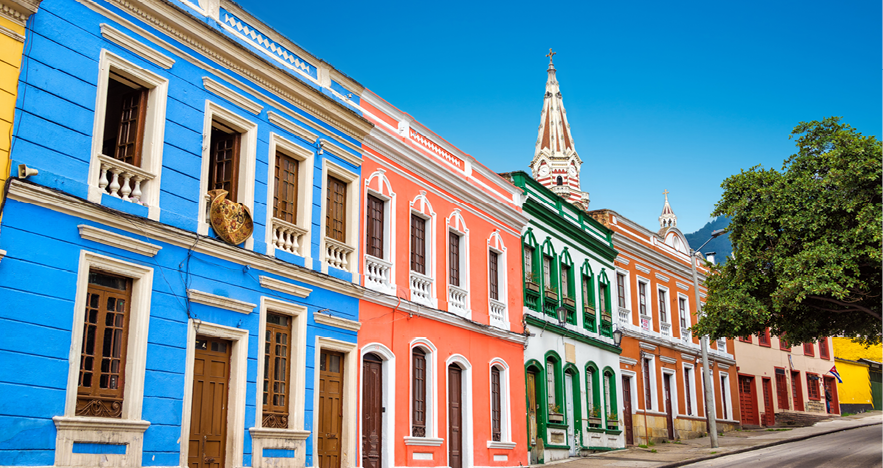 This cosmopolitan city of more than 8 million people sits high up in the Andes Mountain Range – 8,660 feet above sea level to be exact. As the third highest capital city in South America, following Quito and La Paz, this plateau city enjoys beautiful views of the mountains and a mild weather that averages between 47°F and 75°F.
The predominant colors in Bogotá are the green of the city's many parks and the eastern mountains overlooking the sanctuaries of Monserrate and Guadalupe and the rich red of its many brick buildings. Bogotá is gaining much recognition, particularly as an emerging art and gastronomic destination in Latin America. Both International and Colombian chefs that have trained abroad are flocking back to Bogota to start exquisite restaurants with impeccable style and design, and renowned curators are opening independent art galleries throughout the city. Furthermore, Bogotá's sophisticated hotels, chic boutiques, designer shops, and thriving nightlife are turning Bogotá into South America's next capital of cool, according to the international press.
Should you find yourself with just a day to spend in Bogotá, fear not, we've figured out the perfect itinerary to show you all this up-and-coming city has to offer!
6:00 AM – Flowers and Fruits of Colombia
To see the best Bogotá has to offer in 24 hours, waking up early is a must. Especially if you want to catch the very best there is to see at the vibrant Paloquemao market. Paloquemao can be described as Bogotá's Mecca of food, bringing together suppliers of flowers, meat, vegetables, fruits, packaged goods, and seafood from all over Colombia.
This is one of the most important marketplaces in the country, where you can taste an infinite number of exotic fruits and get a chance to see some of the most colorful, exotic flowers in the world. But to get a chance to see the very best in the market, an early start is necessary before all the better goods are sold out. In between snacking and sampling new produce, you can also opt to buy bottles of colorful potions that serve different purposes, such as attracting romance or money, scaring off spirits, increasing good luck and speaking to the deceased.
7:00 AM – Peace Weavers
Bogotá has been the epicenter of Colombia's dramatic yet fascinating history, so visiting it is the best way to understand the country's tough past and recent revival. After the enormous effort made by the Peace Agreement, which put an end to a conflict of more than 50 years and its eight million victims, Colombia is at a crucial moment which will define its path for the coming decades.
To understand the most important historical events in Colombia, focusing on the history of the country, its rebirth and future prospects, visit the historic neighborhood of La Candelaria, where you will learn about the Colombian geography and its relevance to the country's history. Visit important places that marked the history of the country and hear the voices of some true peace weavers. These peace weavers managed to transform their lives and those of their communities by transitioning from coca plantations to producing some of the most exquisite cacao or coffee found in the country, if not the world. For the best experience, we can arrange a tour with an expert journalist who worked directly in the peace process.
10:30 AM – One of a Kind Emeralds
Visit Lee Watson's private emerald workshop in La Candelaria. Lee specializes in the selection and marketing of high-end natural Colombian emeralds and one of a kind emerald jewelry. Lee was born in Los Angeles but has been a resident of Bogotá since 1973. For over 40 years, he has been selecting and exporting the finest natural Colombian emeralds, which due to their beauty are some of the rarest and most sought after in the world. Let us arrange for Lee Watson himself to personally show you the designs, craftsmanship, and quality of his emerald collection in his workshop.
11:30 AM – In Search of EL Dorado
Bogotá was founded in 1538 by Spanish settlers who imposed their architecture and culture, which can still be seen in Bogota's historic district. Before the Spanish arrival, various indigenous tribes inhabited Bogotá and the region surrounding it. Remnants of these tribes can be seen by visiting Bogotá's impressive Gold Museum accompanied by a historian who will explain the meaning behind the extraordinary pieces recovered from archaeological sites throughout Colombia.
1:00 PM – Biodiversity on a Plate
National Geographic once stated that "if earth's biodiversity were a country, it could be called Colombia." Colombia is among the 17 mega biodiverse countries in the world, being the most biodiverse country on Earth in terms of area, and the second most biodiverse overall after neighboring and much larger Brazil. There are more species of birds and orchids in Colombia than anywhere else on earth. Colombia is second in the number of species of plants, amphibians, butterflies and freshwater fish, third in the number of species of palm trees and reptiles, and fourth in its diversity of mammals. In addition, with more than 87 ethnic groups and 65 different languages, Colombia is the second most ethnically diverse country in the Americas after Brazil. Truly, Colombia is a paradise of both cultural and natural diversity.
Renowned chef Leo Espinosa along with her daughter, sommelier Laura Hernandez Espinosa, take an eco-systemic and anthropological approach in portraying Colombia's gastronomy in their restaurant, Leo Cocina y Cava. Leo´s kitchen is the result of an investigation expressed through the country's biodiversity and ancestral cooking, complemented by knowledge of communities throughout the country. With the support of biologists, anthropologists, producers and growers, the restaurant's menu is based on local products and ancestral awareness. Part of the restaurant's profits support the owner's foundation "FUNLEO" that invests in the social and economic development of Colombian communities through food security and gastronomy. This small restaurant is among the Top 50 Restaurants in Latin America, and Leo herself has also won Best Woman Chef in Latin America in the year 2017.
3:30 PM – Artsy San Felipe – Bogotá's SoHo
The streets of San Felipe revive the memory of a simple Bogotá. Located between 72nd and 80th streets and between Avenue Caracas and 24th Street, the reserved facades are the essence of this neighborhood. Scattered between fruit shops, bakeries, and garages are many of the city's newer and most impressive independent art galleries. It is rumored that San Felipe may become the equivalent of what SoHo is to New York. Visit a few of the city's top art galleries alongside a local art expert and get sneak peek into the atelier of an artist or two. Among the galleries that are worth a visit are: Instituto de Visión, SGR Galería, Liberia, Beta, Sketch, and Fundación FLORA arts + natura.
6:00 PM – Private Penthouse Art Collection
This collection, located in the apartment of José Dario Gutiérrez, who is considered one of the most important private collectors in Colombia, is the country's largest art collection after the National Museum. As you visit the tenth-floor penthouse, you will be immersed in the world of Latin American art, emphasizing Colombian artists from several different periods of time. Every wall is covered with paintings and drawings, while sculptures occupy significant floor and surface space. The penthouse overlooks the entire city of Bogotá, a view that is a masterpiece itself. A visit is both a privilege and an intimate experience. Drinks on this magnificent terrace are always a must!
8:00 PM – Dinner with Villains
Set in a traditional house on 56th Street and 5th Avenue, Villanos en Bermudas will likely go unnoticed by most people passing by, largely due to the fact that the restaurant has no signage; however, once you're inside you will discover an exquisite culinary offering. This restaurant offers only a ten-course tasting menu, ideal for those curious palates willing to be surprised, since the cuisine of this restaurant mixes technique, creativity and freedom. The ingredients are obtained through small producers and the menu changes every day according to the availability in the market. The second floor of this house is home to a cocktail bar that serves all the classics, with a touch of something different. Enjoy a green tea caipirinha, a chocolate margarita or a coffee Old Fashioned. What's more, Villanos en Bermudas has culinary seasons where illustrious national and international chefs are invited to create pop-up dinners in the style of many of the world's top restaurants.
11:00 PM – Surreal Drinks at Andres DC
From the same owners of Andres Carne de Res in Chia, this restaurant offers a completely unique dining experience in the heart of Bogotá. The lively and exciting atmosphere, along with the eccentric decor, makes this restaurant a unique dining and partying experience. This legendary steakhouse blows everyone away – even repeat visitors – for its all-out fun atmosphere and delicious steaks. It´s also a party place like no other.
Interested in learning more about the best kept secrets both in Bogotá and in Colombia?
Contact your FROSCH Travel Advisor to get the full scoop and more insider intel from our local experts at FROSCH Journeys Colombia!